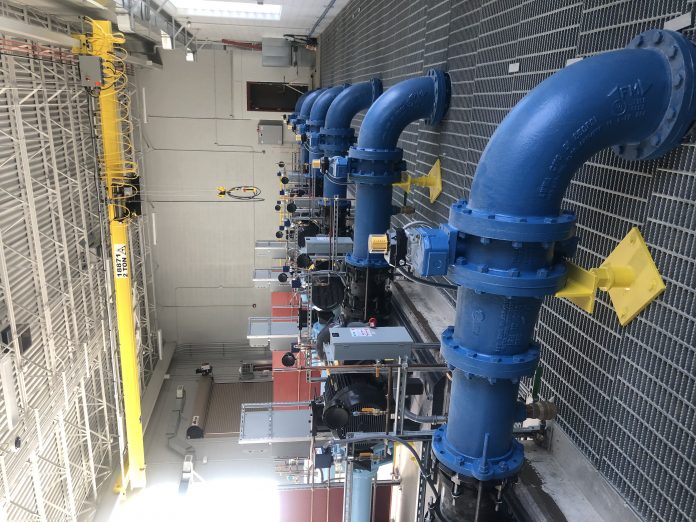 R.E. Warner & Associates, Inc.
Project Location: Bedford Heights, Ohio
Category: Water + Stormwater + Wastewater
Started: November 1, 2014
Completed: December 1, 2021
Project Budget: $1,300,000
Total Project Cost: $5,300,000
Project Leadership Team:
Ted Beltavski, PE, Principal In Charge
Jen Kalin, RA, Project Manager & Lead Architect
Project Overview:  The New Aurora Road Pump Station project encompassed the design and construction of a new 4,600 square foot booster pump station for the Broadway Service District of the Cleveland Water Department (CWD).  The new facility is part of CWD's system that carries water as far as 25 miles and 750 feet uphill.  This system is divided into various zones that each use two pump stations.  With the completion of the Broadway Service District's new pump station, there are now two facilities serving the area.  This provides the redundancy necessary to ensure CWD can reliably deliver potable water.  The new 15 MGD booster pump station houses five split-case centrifugal pumps, suction piping, discharge piping, electrical distribution equipment, and controls to remotely operate the pump station with enough space to allow for one additional pump in the future.  The discharge and suction are located below grade in the basement of the facility.  To account for this, a plan was developed to utilize a donut shaped lower level to avoid extra costs associated with excavation, slab, and operating expenses.  This design also reduced the square footage of the lower level by about 50 percent.
Impact(s): This project was essential to the communities within CWD's Broadway and Shepard Third High pressure districts where there was previously only one pump station source.  This second pump provides critical redundancy for the districts.  In addition, the New Aurora Road Pump Station is important in future development of CWD's infrastructure, as it created the guidelines and prototype for future pump stations.
Highlights:
15 MGD booster pump that houses five split-case centrifugal pumps
Donut-shaped lower level to reduce cost and square footage
Remote operation capabilities