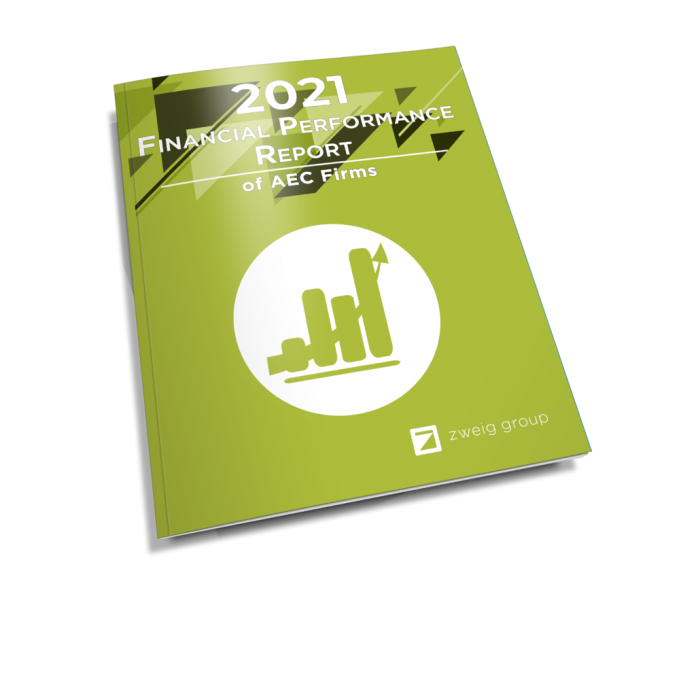 By Tyler Thompson
Zweig Group gathered 2020 financial data from architecture, engineering, environmental consulting, and construction firms through an online survey for its recently released 2021 Financial Performance Report of AEC Firms. Income statement line items were analyzed as a percentage of net service revenue (NSR) and compared to the previous five years to understand how the coronavirus pandemic impacted company spending in a crazy year.
There are a couple of obvious downward trends in spending that revolve around the inability to travel. In previous years, travel & entertainment costs as a percentage of NSR typically hovered around one percent on average. In 2020, it fell to 0.4 percent, which even includes the pre-pandemic period between January and mid-March. Paid time off (PTO) costs and non-salary marketing expenses likely also fall in the category of spending that decreased due to travel restrictions.
On the other hand, professional service costs as a percentage of NSR saw a bump from about 1.5 percent on average in previous years to 2.6 percent in 2020. While these costs are usually dominated by legal and accounting services, services from outside technology sources could also be at play here as firms adjusted their work environments. According to Zweig Group's COVID survey, 51 percent of firms reported an increase in IT spending while just 9 percent said their IT costs decreased.
Other income/expenses increased from 0.1 percent in 2019 to 2.4 percent in 2020. This line item was the most common placement of Paycheck Protection Program (PPP) funding for firms that recorded it on their income statement. PPP funding generally ranged between 10 and 13 percent for AEC firms and about half of these firms reported this funding on their income statements.
Zweig Group is constantly gathering data on every area that impacts the management of AEC firms. Participate in any survey and receive a customized report or sizable discount (50 percent or more) on any Zweig Group research publication. 
Learn more in the upcoming Overview & Insights from Zweig Group's 2021 Financial Performance Survey webinar.
---
Tyler Thompson is the Research Manager at Zweig Group. He can be reached at research@zweiggroup.com.