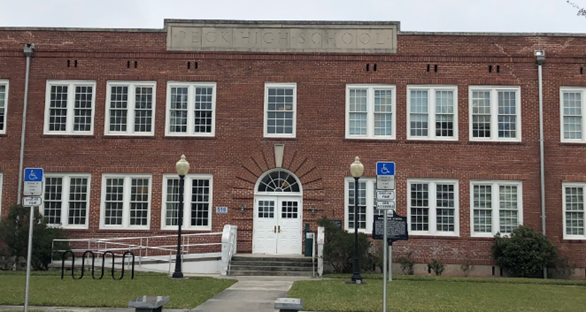 Western Specialty Contractors – Orlando Branch is nearing completion on a year-long project to restore the façade of historic Peck Center in Fernandina Beach, FL. The scope of work, which includes masonry restoration, structural repairs and waterproofing, is expected to be completed by the end of February 2023.
Peck Center was originally opened by Professor Moses H. Payne in 1885 as a four-room school building for African Americans, named Colored School No. 1. When he passed away in 1888, Professor Peck was promoted to Assistant Principal and worked to develop the high school's curriculum, with the first senior class graduating from the school in 1891.
Today, Peck Center, which includes an auditorium and gymnasium, is used for different community events, classes and recreational activities. It is also home to several City of Fernandina Beach offices and not-for-profit organizations.
The City of Fernandina Beach contracted with Western to repair and tuckpoint the building's entire masonry brick and stone exterior, taking care to restore the façade to its original condition. The scope of work includes the following:
Removal and replacement of all mortar joints, approximately 75,000 lineal feet.
Cleaning of the brick masonry façade, with a mild mortar detergent.
Installation of new hot dipped galvanized window lintels/shelf angles.
Treatment of existing corroded lintels/shelf angles with new dual component epoxy primer and urethane topcoat.
Replacement of damaged/cracked bricks to match the existing color and texture.
Removal and replacement of all failed/deteriorated window perimeter sealants.
Removal and replacement of all failed/deteriorated vertical control joint sealants.
Demolition and replacement of all damaged/cracked horizontal accent stone to match the existing coquina rock finish.
The $1.2 million façade restoration project started in January 2022. Walker Consultants is the engineer of record for this project.
Click here to learn more about Western's façade restoration services.