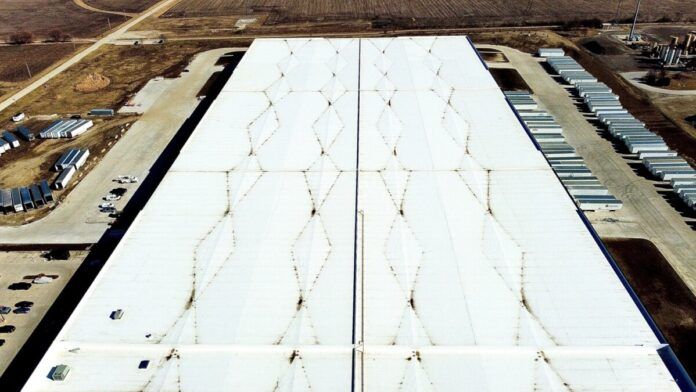 Western Specialty Contractors – Peoria Branch recently installed the roof on a 500,000-square-foot, $30 million warehouse expansion in Normal, IL owned by Phoenix Investors, LLC and leased to electric vehicle manufacturer Rivian.
The addition doubles the size of Rivian's existing warehouse on Kerrick Road and will be used for logistics, storage and the company's adventure product line.
Rivian produces its all-electric R1T and R1S models as well as electric delivery vans for Amazon at a production facility about six miles west of the warehouse. According to reports, Rivian has experienced major growth in recent years to become the second largest employer in the Bloomington-Normal community with a reported 5,075 employees.
The general contractor on the warehouse expansion project, Peoria-based PJ Hoerr, selected Western to install the facility's new roof. Zimmerman Architectural Studios was the architect on the project.
Western's craftsmen installed a mechanically fastened TPO membrane roof with R-30 minimum insulation, tapered insulation crickets, perimeter coping caps and expansion joints. The lightweight, flexible TPO roof provides a reliable, economical and energy-efficient solution for a job of this magnitude.
Western was able to maneuver the supply chain crisis due to its strong partnerships with suppliers and manufacturers to procure all necessary roofing materials to complete the project on schedule. The roof installation started in August 2022 and was completed two months later in October.
For more information about Western's roofing services, visit https://westernspecialtycontractors.com/projects/services/roofing-services/.