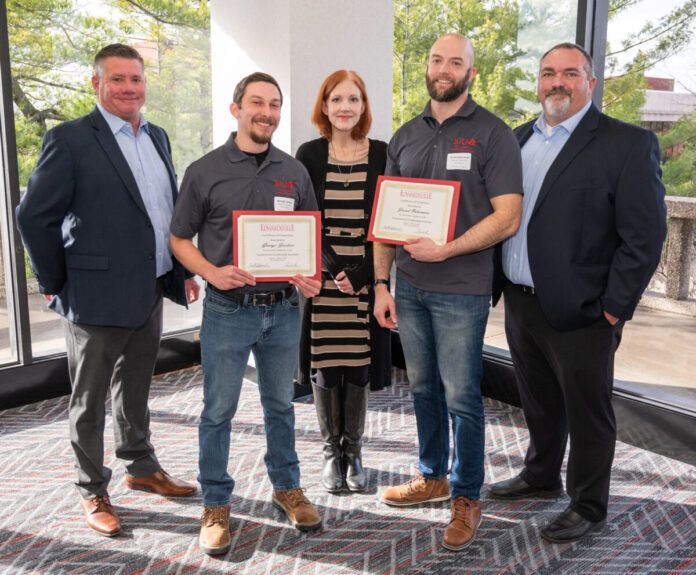 Western Specialty Contractors would like to congratulate Peoria, IL Assistant Branch Manager Jared Osterman and St. Louis Concrete Branch Sales/Project Manager George Justice on graduating from the 2023 Construction Leadership Institute (CLI) at Southern Illinois University Edwardsville. Four Western employees have graduated from the program over the past two years.
CLI recognized 43 graduates of its program on March 10 as part of the CLI Graduation celebration. CLI is an executive education program jointly developed by SIUE's School of Business and its School of Engineering's Department of Construction. The program brings together professionals from many sectors of the building industry.
"The CLI program is designed to align with leadership development needs of the rapidly changing construction industry," said Chris Gordon, Associate Dean of the SIUE School of Engineering and Co-Director of the program. "The CLI Advisory Board takes an active role in helping us continuously update this unique and innovative leadership development program to develop future building industry leaders."
Since CLI's creation, over 500 emerging leaders and executives have benefitted from the nine-week program that strengthens leadership, strategic thinking, communications and key management skills.
"Continuing education is a vital part of Western's people-first culture," said Western Manager of Learning & Organizational Effectiveness Meredith Bousman. "Our employees are our greatest assets and we want them to continue to grow and succeed in their careers at Western. We congratulate Jared and George and the other Western CLI graduates for expanding their leadership knowledge, skills and strategies by completing this outstanding program."