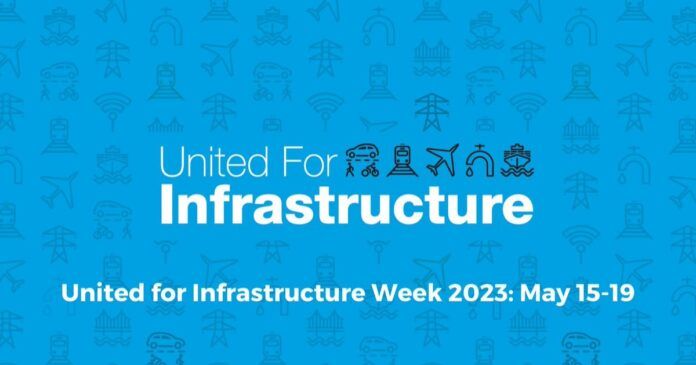 WASHINGTON DC – The Bipartisan Infrastructure Law (BIL) directs about $40 billion over the next five years to repair, replace or rehabilitate America's bridges. Some of those funds are dedicated to off-system bridges, which are typically locally owned, classified as short span structures (under 140 feet), and essential as critical links in the national supply chain. New innovative materials, designs and protection systems to build resilient steel bridges are readily available today and will be presented during a free one-hour webinar hosted by the Short Span Steel Bridge Alliance (SSSBA), American Iron and Steel Institute (AISI) and American Galvanizers Association (AGA). The webinar, "Essential Resources for Sustainable Off-System Bridges," will be held on May 18, 2023 from 1:00 p.m. to 2:00 p.m. EDT as part of United for Infrastructure Week 2023. More information is available at https://www.shortspansteelbridges.org/webinar-essential-resources-for-steel-bridges-may-18-2023/.
The SSSBA and AGA have developed several free, essential resources that make steel bridge design easier while achieving long-term performance, minimal maintenance and a 100-year service life in many environments. These resources will be discussed by webinar presenters Michael Barker, Ph.D., P.E., professor of civil and architectural engineering at the University of Wyoming and John Krzywicki, marketing director at the American Galvanizers Association.
Dr. Barker is director of education for the Short Span Steel Bridge Alliance and has more than 30 years of experience in bridge design and construction. His primary research pertains to steel bridges, experimental testing, bridge design specifications, bridge field testing, high-performance steel and reliability analyses of structures.
John Krzywicki has a strong engineering background and experience in effectively communicating design, performance and sustainability considerations when using hot-dip galvanized (HDG) steel.
The "Essential Resources for Sustainable Off-System Bridges" webinar is recommended for bridge professionals, students, legislators and interested citizens. Advanced registration is required for this complimentary webinar through the American Galvanizers Association's online learning system, and it is accredited by AIA and RCEP to provide 1.0 LU/PDH (HSW Hour). During United for Infrastructure Week, participating organizations host events to build awareness of and educate policymakers and citizens about the infrastructure challenges in the United States. AISI and AGA are affiliate members of United for Infrastructure 2023.
The American Galvanizers Association (AGA) is a not-for-profit trade association dedicated to serving the needs of specifiers, architects, engineers, contractors, fabricators, and after-fabrication hot-dip galvanizers throughout North America. Since 1933, the AGA has provided information on the most innovative applications and state-of-the-art technological developments in hot-dip galvanizing for corrosion control. The AGA maintains a large technical library, provides multimedia seminars and offers a technical support line to assist specifiers. Learn more at https://galvanizeit.org/.
The American Iron and Steel Institute (AISI) serves as the voice of the American steel industry in the public policy arena and advances the case for steel in the marketplace as the preferred material of choice. AISI's membership is comprised of integrated and electric arc furnace steelmakers, and associate members who are suppliers to or customers of the steel industry. For more news about steel and its applications, view AISI's websites at www.steel.org and www.buildusingsteel.org. Follow AISI on Facebook, LinkedIn, Twitter (@AISISteel, @BuildUsingSteel) or Instagram.
The Short Span Steel Bridge Alliance (SSSBA) is a group of bridge and buried soil steel structure industry leaders who have joined together to provide educational information on the design and construction of short span steel bridges in installations up to 140 feet in length. For more news or information, visit https://www.shortspansteelbridges.org/ or follow us on Twitter (@ShortSpanSteel), Facebook and LinkedIn.