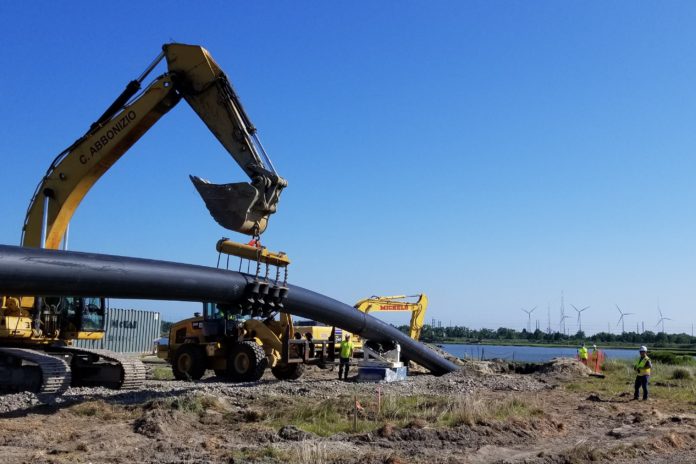 The Plastics Pipe Institute, Inc. (PPI) today came out with a statement supporting and stressing the importance of updated ASTM standard for using high-density polyethylene (HDPE) pipe in horizontal directional drilling (HDD) projects.
ASTM F1962-22, Standard Guide for Use of Maxi-Horizontal Directional Drilling for Placement of Polyethylene Pipe or Conduit Under Obstacles, Including River Crossings was revised and updated in December 2022 by an ASTM Subcommittee led by Dr. Lawrence M. Slavin to include pipe made with PE 4710 compounds. In addition to ASTM, ASME and CSA standards, PE 4710 was incorporated in AWWA (C901, C906, M55), FM 1613 and others. The pipe is used in force main, potable water and other projects.
According to PPI, the major North American trade association representing the plastic pipe industry, PE 4710 is the highest performance classification of HDPE piping material for water applications. "PE 4710 compounds offer utilities and designers a greater level of performance," stated Camille George Rubeiz, P.E., F. ASCE, senior director of engineering for the Municipal and Industrial Division of PPI and is also the co-chair of the HDPE Municipal Advisory Board. "This translates to the ability to utilize HDPE with increased flow capacities plus increased resistance to surge pressure, fatigue and slow crack growth. According to an industry survey, HDPE is the most used pipe material for HDD."
ASTM F1962-22 focuses on maxi-horizontal directional drilling (maxi-HDD) that is typically used for longer distances and larger diameter pipes common in major river crossings.
"Numerous HDD under waterway installations are being done," Rubeiz offered. "One in Atlantic City saw 32-inch diameter HDPE PE 4710 pipe run for 1,500 feet, 80 feet under the Beach Thorofare waterway. This critical force main line project was done with a drilling rig that had a pulling force capacity of 250,000 pounds and a torque capacity of 40,000 ft-lbs. This is the typical maxi-HDD project referred to in ASTM F1962 with its sections on sites, regulations, the bore path, plus other significant topics.
"Another remarkable waterway project was the 4,000 feet of 20-inch HDPE pipe embedded 60 feet under the bottom of Florida's Biscayne Bay to deliver potable water to the area. It replaced a 25-year-old leaking cast iron transmission line that was attached to the Rickenbacker Causeway.
"We encourage utilities, designers and contractors planning a maxi-HDD HDPE pipe project to use F1962, the only ASTM Standard for HDD. This coupled with PPIPACE – Pipeline Analysis & Calculation Environment – and PPI-BoreAid™ free software programs will provide the information for planning the design."
Additional information can be found at the PPI Municipal & Industrial Division website: www.plasticpipe.org/municipalindustrial.