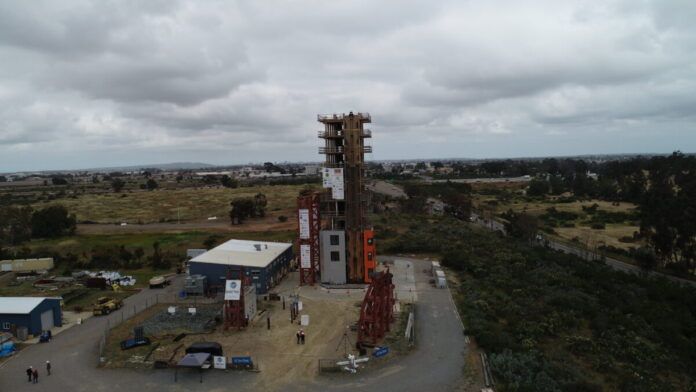 RENO, Nev. — Buildings made of mass timber – layers of wood bonded together – are gaining popularity as greener and faster alternatives to concrete and steel structures. With new building codes recently updated to permit more high-rise mass-timber buildings to be constructed in the United States, many have questioned how such buildings would fare in earthquakes.
The Natural Hazards Engineering Research Infrastructure (NHERI) TallWood project aims to investigate the resilience of tall timber buildings by simulating a series of large earthquakes on a full-scale, 10-story mass timber building – the world's tallest full-scale building ever tested on an earthquake simulator or shake table at the NHERI@UCSD facility. The research project is funded by the U.S. National Science Foundation.
The key feature of the building is a post-tensioned rocking wall system built from mass timber panels. Under lateral forces, the wood panels rock up off the base, and the post-tensioning rods re-center the system after the earthquake passes. This new system is aimed at resilient performance, which means the building will have minimal damage from design-level shaking and be quickly repairable after rare earthquakes.
The seismic test project, led by Colorado School of Mines, is a collaboration of many researchers from academia and industry. Project co-investigator and engineering professor at the University of Nevada, Reno, Keri Ryan, Ph.D., will be leading her team of researchers focused on testing non-structural systems including interior partition walls, exterior facades and stairs.
"Resilient design must also account for the building's nonstructural systems, which are not part of the structural load-resisting system but play an important role in the building's function and its ability to recover after the earthquake," Ryan said.
For more information, please see the story on Nevada Today.