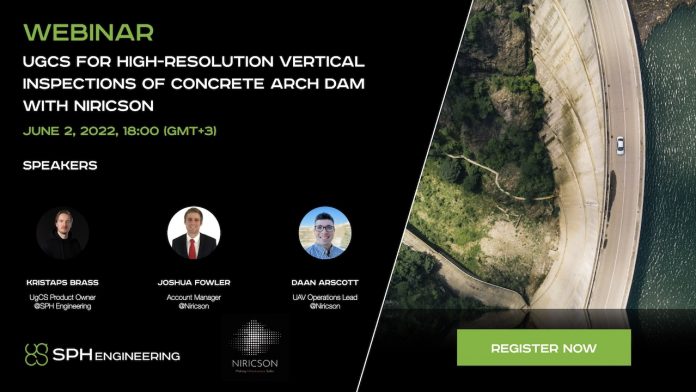 Jun 2, 2022 10:00 AM CT
✅ UgCS by SPH Engineering gives professional drone pilots the ability to plan detailed survey missions in a 3D environment on PC/Mac. One of the features of UgCS is the ability to plan vertical inspection missions with terrain following based on custom imported digital elevation models (DEM).
✅ Niricson is one of the fastest growing start-ups in Canada, having top hydro dam owners and engineering consulting firms as customers around the world. Niricson's AUTOSPEX cloud-based platform, enables asset managers and civil engineers to quickly gather insights and proactively plan the repair of their assets. The platform helps them manage their budgets and help ensure the safety of the high consequence structures during their service life and beyond.
Agenda:
– Connecting your drone to UgCS
– Custom camera configuration and actions
– Planning vertical missions
– Importing digital elevation models
– Performing hydro dam inspections using drones (Niricson) and processing data
✅ The webinar is free of charge and requires registration.
The webinar will be recorded – please register to get the link to the video recording!
✅ Discover UgCS https://www.ugcs.com/
✅ About SPH Engineering https://sph-engineering.com/
✅ Discover Niricson https://niricson.com/
✅ With any questions please contact support@ugcs.com.
✅ Join us on June 2, 6 PM (GMT+3) to learn more about how UgCS vertical inspection and DEM import features can be utilized to collect 1mm/pixel resolution data on concrete arch dams.