Often times, businesses find themselves stuck with an inadequate storage area that doesn't fulfill the needs of their operation. From outdoor storage to more traditional options that are basic in nature, it can be difficult to find a cost-effective space that maximizes storage capability.
Fabric structures are designed to solve this issue, supplying operations with abundant storage and the ability to customize the structure to their exact needs, while still being competitively priced. With a ClearSpan storage tent, operations can obtain a greater overall storage solution, whether they need a temporary space or a structure that lasts decades.
Through a wide selection of custom features and structural components, operations can ensure their structure meets even the most demanding storage applications. When a business decides to upgrade their storage space with a ClearSpan storage tent, they gain superior protection, steel frame designs that maximize space and versatile foundations that limit construction timelines and excavation costs.
SUPERIOR STORAGE TENT COVERING
With any storage space, operations are going to want to ensure their equipment and valuables are well-protected. ClearSpan's cladding options make a fabric structure the superior choice for a storage tent, helping shield stored goods from the elements year-round.
The standard cladding choice is a 12.5 oz. polyethylene fabric cover, which offers operations a number of benefits for their storage tent. This fabric is manufactured with a rip-stop weave to significantly extend its lifespan and is backed by an industry-leading 20 year warranty. High quality manufacturing helps the cover keep a structure's interior safe and dry for decades, regardless of the severe weather it may face.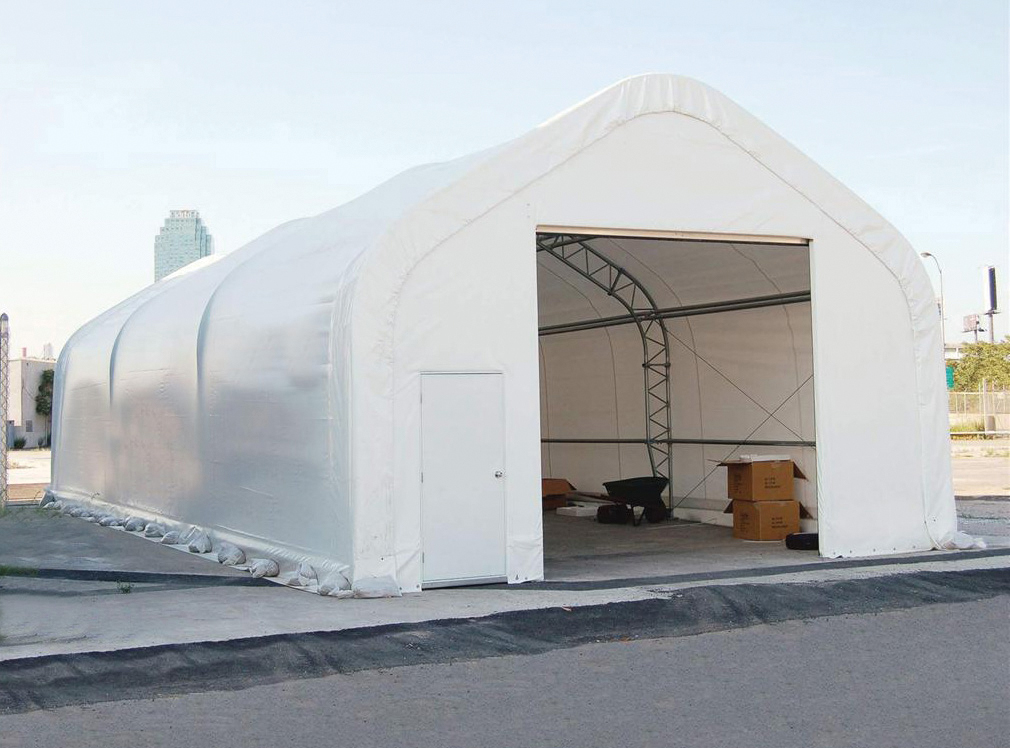 In addition to maintaining a dry interior, the fabric is also climate-sensitive, which helps keep a storage tent ten degrees cooler in the summer and ten degrees warmer in the winter. With more regulated temperatures, operations can create a suitable year-round environment for their stored goods, without running extensive HVAC systems.
While this helps keep energy costs to a minimum, the fabric cover also goes a step further, flooding a storage tent with natural light. Not only does this mitigate the need for artificial light fixtures and reduce electricity consumption, but it also creates a well-lit environment for when businesses need to access their storage tent.
Read more about the potential advantages of a fabric structure's natural lighting in a previous blog.
For businesses that need a storage tent with additional strength, a second fabric cladding option is the exclusive Armor Shield Cover. Designed for the toughest applications, this 29 oz. architectural vinyl covering is constructed with seven layers of material to guarantee decades of use.
The base fabric provides necessary strength and supports a long lifespan. Its additional layers work to secure the cladding together, offer increased durability and help repel dirt. Backed by an industry-leading 30-year warranty, operations can use this heavy duty cladding to give their storage tent the utmost protection.