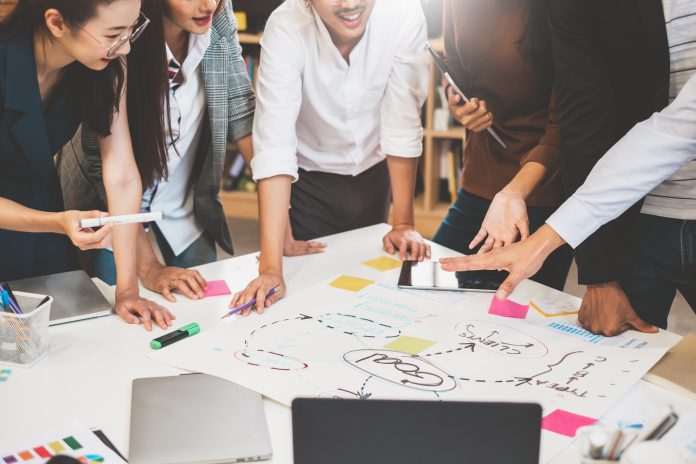 (St. Louis, 2022) The UP Companies (UPCO) is pleased to announce the recent transition of President Michael B. Kennedy to the role of Chief Executive Officer, and Vice President and Partner Brian W. Arnold to the role of President.
As CEO, Kennedy will continue to focus on critical business development opportunities, key stakeholder relationships, corporate financial strategies, community involvement initiatives and strategic planning. As President, Arnold will work directly with the UPCO leadership team and the recently promoted Vice President of Operations Steve Grass to implement best-of-class operational processes and initiatives across all businesses (Power UP Electrical Contractors, Square UP Builders and Hustle UP Laborers) to enhance internal efficiencies and external deliverables.
Senior Vice President and Partner Gerhard Glassl will take on increased responsibilities related to electrical material procurement, warehouse and supply operations, and prefabrication enhancements as well as taking a direct Project Executive role on several key electrical projects.
The construction industry has faced unique and unprecedented challenges over the last two years, including the pandemic, disruptions to the supply chain, material price escalations, labor shortages and general economic uncertainty. These issues have impacted not only how firms approach new projects but how to run competitive and profitable operations.
"We started The UP Companies during a recession. The structure and concept of our family of companies was created to be uniquely positioned to provide the best value to our customers – a combination of price, quality, safety and innovation," said Arnold. "After a decade of success, it is time to take our value proposition to the next level."
In 2018, UPCO expanded its line of services and established Hustle UP, LLC to meet the increasing need from owners, general contractors, and subcontractors for general labor, site maintenance, and selective demo services. And in 2019, UPCO broadened its geographic reach by opening a regional office in Kansas City as their client base continued to expand west.
UPCO currently employs more than 450 people between its St. Louis and Kansas City offices and is focused on stability and operational excellence in its core businesses while forecasting selective growth in its Kansas City operation as it continues to expand UPCO's brand recognition and reputation in the region.
"The growth and geographic expansion of all our operating companies has created an even greater need to focus on new cross-company integrative strategies at levels within our organization," said Arnold. "We're concentrating our efforts on the further advancement of the UPCO brand and shared best practices and technologies between all companies in both the office and field, all while making good on our Core Focus, staying committed to our Core Values, and continuing to look UP in both the good times and the challenging times."
Over the past several years, UPCO has been part of many iconic and important projects across the St. Louis and Kansas City regions, including:
Expo at Forest Park – Power UP & Square UP
Hotel St. Louis – Power UP & Square UP
Kiener Plaza Redevelopment – Power UP
Kansas City International Airport New Terminal – Square UP
St. Louis CITY SC New Stadium Seating – Square UP
BJC West County Hospital – Square UP & Hustle UP
St. Luke's Hospital Renovations, Kansas City – Square UP
Saint Louis University Interdisciplinary Science & Engineering Building – Power UP
SSM Health Saint Louis University Hospital – Square UP
Everly on the Loop – Power UP
Tin Roof Kansas City – Power UP
"People and process are two of our greatest assets. Being good stewards of the opportunities we have been given demands that we operate at best-of-class levels of efficiency. It requires us to have systems and processes that enable us to predict, and that we continue to create opportunities for people to develop and maximize their talents," said Kennedy. "This transition solidifies our commitment to the UPCO brand, our customers, the communities we serve, and all of our current and future team members who entrust us with their time and talent."
About The UP Companies
Headquartered in St. Louis with a full-service regional office in Kansas City, The UP Companies (UPCO) is one of the Midwest's largest full-service sub-contracting companies offering fully integrated solutions for general contractors, owners and facilities management professionals. For a decade, UPCO has focused on its mission of Building UP Communities Through Innovation, Diversity, and Integrity, providing superior design and contracting services through each of its distinct operating companies— Power UP Electrical Contractors, Square UP Builders and Hustle UP Laborers. Power UP is one of the region's largest minority-owned, full-service electrical contractors and a leader in electrical and technology systems design, construction, installation and maintenance serving the commercial, residential, industrial and institutional marketplaces. Square UP is one of the region's largest full-service carpentry contractors specializing in high-quality rough and finish carpentry and drywall services for the commercial, residential, industrial, institutional and healthcare markets. Hustle UP is a certified minority-owned business offering general labor, selective demolition, general clean up, site maintenance and final cleaning services. UPCO delivers a highly diverse and extremely productive union workforce that is fit tested, safety-trained and lives up to The UP Companies' reputation of ensuring a timely and successful completion of construction projects. For more information, visit www.theupcompanies.com or call 314-865-3888.