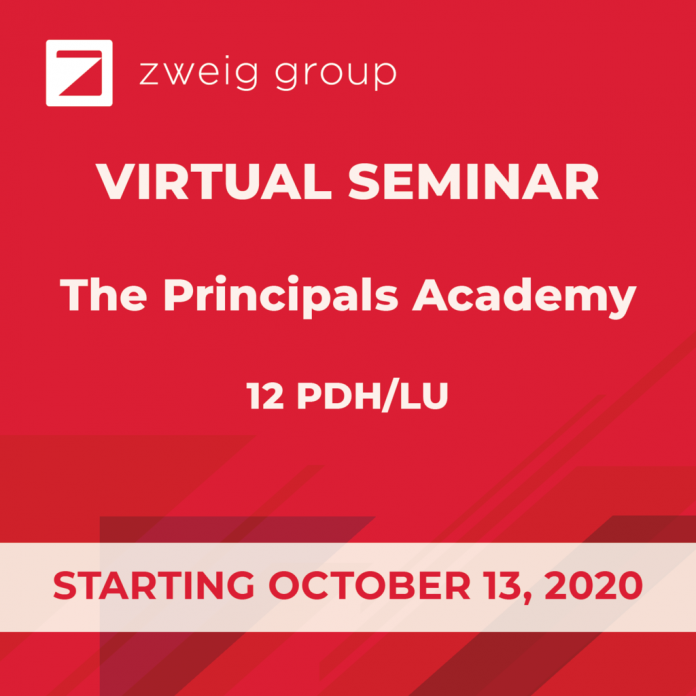 Starting October 13, 2020
Overview:
With the uncertainty of traveling to In-Person events, Zweig Group has created a NEW virtual seminar program. This is a 6-week program of 2 hours each week of a live zoom meeting with our seminar instructors. These meetings will be a mix of presentations as well as open-ended Q&A sessions. This will be the same great content that is taught during our in-person The Principals Academy seminar that has trained over 800 attendees in the last 5 years.
The Principals Academy is Zweig Group's flagship training program encompassing all aspects of managing a professional AEC service firm. Elevate your ability to lead and grow your firm with this program designed to inspire and inform existing and emerging AEC firm leaders in key areas of firm management leadership, financial management, recruiting, marketing, business development, and project management. Learning and networking at this premiere event challenges traditional seminar formats and integrates participatory idea exchange led by Zweig Group's CEO Chad Clinehens, PE, and Zweig Group's Managing Principal, Jamie Claire Kiser, as well as the firm's top line up of advisors.
Zweig Group's leadership team draws from our 30+ year history working with AEC firms to teach the latest approaches to managing and operating successful firms – using our comprehensive data set of industry benchmarks and best practices. The Principals Academy is like a mini-MBA for design and technical professionals and is an impactful way you can spend learning to build your career and your firm.
Summary Details:
6-week program, with 2-hour meetings each week of live content
The same content that is taught during the In-Person The Principals Academy seminar
Taking place on a Zoom meeting, participants are able to network with the instructors as well as the other participants
12 credit hours
Registration Includes:
6 live meetings with the Zweig Group instructors
The same highly-rated seminar content will be taught in the convenience of your own home/office
Polls, quizzes and interactive material that will keep participants engaged
Participants will also get the recorded sessions to look back on for years to come
A comprehensive seminar workbook
Schedule:
Pre-Seminar Meet & Greet Happy Hour – Monday, October 12, 2020 from 4:00 PM – 5:00 PM CT
Week One: MODULE ONE – Tuesday, October 13, 2020 from 11:00 AM-1:00 PM CT
Week Two: MODULE TWO – Tuesday, October 20, 2020 from 11:00 AM-1:00 PM CT
Week Three: MODULE THREE – Tuesday, October 27, 2020 from 11:00 AM-1:00 PM CT
Week Four: MODULE FOUR –  Tuesday, November 3, 2020 from 11:00 AM-1:00 PM CT
Week Five: MODULE FIVE – Tuesday, November 10, 2020 from 11:00 AM-1:00 PM CT
Week Six: MODULE SIX – Tuesday, November 17, 2020 from 11:00 AM-1:00 PM CT
Instructors:
Chad Clinehens, President & CEO, Zweig Group
Jamie Claire Kiser, Managing Principal, Advisory Services, Zweig Group
Chad Coldiron, Director, Executive Search, Zweig Group
Phil Keil, Director, Strategic Services, Zweig Group
Will Swearingen, Director, Ownership Transition, Zweig Group
Dawson Fercho, Vice President, CTA
Discussion Topics Include:
What it Means to be a Principal
Business Planning
Driving Financial Results
Marketing Fundamentals
Recruiting & Retention
Leadership for Principals
Firm Ownership & Transition
Basics of Business Development
Mergers & Acquisitions
How to Lead a Successful Firm  
Who Should Attend?
AEC C-suite & firm owners
Experienced principals looking to enhance their knowledge
Legal, accounting, insurance, consulting, and advisors specialized in the AEC industry
Emerging firm leaders and recently-named principals
Department, division, and branch managers
Project Managers and senior design/technical staff
Why The Principals Academy?
Learn what it takes to be a successful leader in the AEC industry
Hear about industry best practices that the most successful firms use to stay on top
Gain a broader perspective on AEC firm management
Learn leadership and team-building strategies to share at your firm
Discuss how business planning will help your firm succeed
Explore the fundamentals of sound financial management
Unique Feature: Career and Firm Growth Roundtable
The Principals Academy program includes an extended Q&A session with industry leaders Chad Clinehens, PE, Jamie Claire Kiser, and the panel of instructors. The Principals Academy provides attendees with an opportunity to discuss in-depth the issues facing them at their firms with advice offered from industry-leading experts.