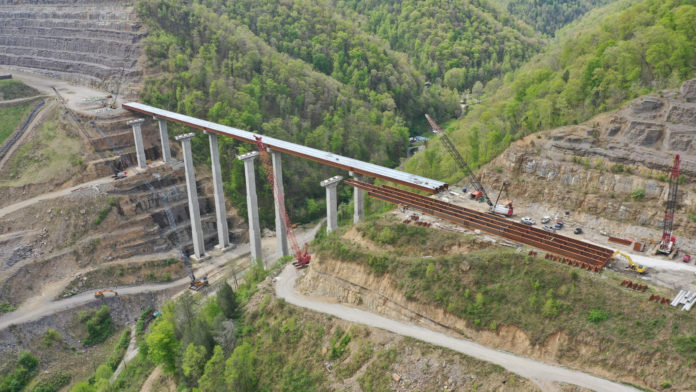 According to the American Society of Civil Engineers' (ASCE) Infrastructure Report Card, 42% of the 617,000 bridges in the United States were built 50 or more years ago. Of those, 46,154 bridges are structurally deficient. Given the vast scope of bridges needing repaired or replacement, Accelerated Bridge Construction (ABC) is gaining the attention of those responsible for our country's infrastructure. At Engineered Rigging, our clients have increasingly expressed an interest in the ABC approach, and we have had the opportunity to provide the specialized engineering knowledge, equipment and technical support for several ABC bridge projects across America.

According to the ASCE, "Prefabricated bridge elements and Accelerated Bridge Construction are being used with more frequency to reduce the amount of time traffic needs to be disrupted while a bridge is repaired or replaced."

What Is Accelerated Bridge Construction?
ABC utilizes prefabricated bridge elements (PBE) such as the deck, beams and railings, that are built in a factory or adjacent to the construction site. The components are then moved and lifted into position using specialized equipment (see below).

What Are the Benefits of ABC?
Accelerated Bridge Construction delivers numerous advantages over traditional bridge construction. First and foremost, the construction portion of the project is completed more quickly. By reducing the amount of active time on the construction site, traffic disruption is minimized, which makes commuters, travelers and trucking companies very happy. A reduction in active construction time also improves worker safety, lowers construction costs and reduces the environmental impact.

The Texas Department of Transportation is a proponent, "The ABC method marks a paradigm shift in the project planning and procurement. It uses innovative planning, design, materials and construction methods in a safe and cost-effective manner. The ABC method also reduces the onsite construction time from months or years to just days or weeks."

A distinguishing factor of ABC is that it utilizes Ultra-High Performance Concrete (UHPC), a class of concrete that is exceptionally strong and durable resulting in a longer bridge life span. According to the Federal Highway Administration (FHA), "UHPC has been used in prestressed concrete girder simple-span bridges, precast concrete deck panels, and field-cast connections between prefabricated bridge components. The mechanical and durability properties of UHPC make it an ideal candidate for use in developing new solutions to pressing concerns about highway infrastructure deterioration, repair, and replacement."

What Specialized Resources Are Critical for ABC Success?
There are three critical components to a successful Accelerated Bridge Construction project:
Detailed planning by engineers with ABC knowledge and experience,
Specialized equipment to transport the prefabricated concrete elements and lift or lower them into position, and
Highly trained technicians who are skilled at operating the equipment and understand the ABC approach.
Engineered Rigging has extensive first-hand experience in Accelerated Bridge Construction. Our engineers have developed detailed lift plans for the placement of bridge decks and bridge trophies as well as the demolition of bridges. In addition, we have a team of heavy lifting professionals who provide specialized on-site technical support for ABC projects.

We also have a rental fleet of ABC equipment including a 2,200-ton lifting capacity jack-up system, strand jacks, sling adjusters (synchhoists), self-propelled modular transporters (SPMTS) and our proprietary Cantilever Segmental Bridge Lift. You can view a video of an Enerpac jack-up system and SPMT tag-teaming to deliver ABC here.

"When it comes to streamlining the planning, procurement and construction portions of bridge projects, our clients appreciate that Engineered Rigging provides engineering services, specialized equipment rentals and technical support. By offering this trio of services under one roof, we save bridge contractors time and money," shared Eddy Kitchen, Co-founder and Principal of Engineered Rigging.