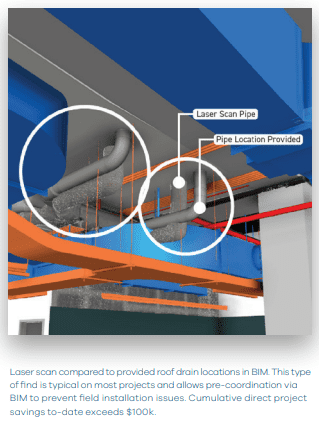 The Organization
Founded in 1888, Swinerton is a $5 billion full-service national commercial construction company with great financial strength, national clients, project diversity, and a company culture that is proud of its 100% employee ownership. It represents diverse market sectors including: Affordable Housing, Aviation, Education, Corporate and Critical Facilities, Gaming, Healthcare, Hospitality, Interiors and Special Projects, Industrial, Life Science, Mass Timber, Public/ Civic, Residential, Retail, and Parking Structures.
The Challenge
When renovating buildings, Swinerton starts with as-built measurements provided by clients. Because those drawings rarely include updates, Swinerton relied on their architects to manually measure spaces, put those measurements into Autodesk Revit, and provide PDFs of the information to the designers, who used them as the starting point for renovations. This process was time consuming and because it's difficult to measure accurately with a tape measure, this often led to adjustments during construction. These adjustments would delay a project, increase costs, deflate morale of workers, and frustrate clients.
To rectify this issue and improve both the customer and employee experience, Swinerton started getting laser scans of structures at the beginning of renovation projects using external companies to perform the scanning.
"The laser scanners led to great improvements," said Matt Zwetzig, VD&C Manager, Swinerton. "Measurements were gathered in a fraction of the time, teams knew they were working with accurate information, plans were created faster, correct parts were ordered the first time, and the parts fit as expected."
With business growing and timelines shortening, Matt determined it was time to compare costs for hiring external providers versus purchasing a scanner and completing the work in house.
The Solution
To determine the best path for Swinerton, Matt estimated the number of square feet they would measure over the next 10 years and how much the external vendors would charge. He then did a cost analysis of the hardware, software, and maintenance agreements of several laser scanners and a feature comparison and came up with a short list that would meet the company's needs.
"With all the information together, it was clear that it was time to move laser scanning in house and the Leica RTC360 scanner was the best one for us," said Matt. "Although the initial investment was higher than other models, it is the fastest in field scanning and processing, meaning we could scan more buildings in less time. I estimated a complete return on investment in just two years, where the other three options on my short list didn't hit ROI between three and seven years."
Matt contacted Leica Geosystems, who recommended that he work with the reality capture experts at IMAGINiT Technologies. Impressed with the IMAGINiT team's in-depth knowledge and commitment to developing a solution to ensure success, Swinerton engaged IMAGINiT to:
Facilitate the Leica RTC360 laser scanner purchase and associated software licenses.
Utilize IMAGINiT's RTC360 Jumpstart Service to lead a comprehensive one-day online training session for eight Swinerton team members on the successful use of the Leica RTC360 scanner and Leica Geosystems processing software. This customized service helps users get up to speed quickly and provides best practices for continued adoption and to maximize scanner utilization.
Provide ongoing technical support.
The Results
"We ended up scanning more buildings than projected and reached full ROI within just six months," said Matt. "In addition to using the scanner to get accurate as-built measurements, our teams coordinated the 'as is' data from the scanner with the 'to be' data in the 3D models to further ensure that any adjustments needed were made early in the project. Everyone was blown away by how easy it was to spot and mitigate problems, so projects went much faster than originally anticipated."
In just two years, Swinerton scanned more than 2.25 million square feet, and the technology paid for itself more than two times over. "The direct cost savings are in the hundreds of thousands of dollars, and the improvements to reputation, safety, win rate, client and employee satisfaction, etc., are immeasurable," said Matt.
Swinerton Demonstrates Value with RTC360 Scanner
A building owner hired Swinerton to renovate one of two buildings of similar size with basically the same remodel plans. The Swinerton team used laser scanning during pre-construction and 3D coordination during construction. Early in the project, the owner's representative commented that Swinerton was not as far along as the contractor working on the other building. The Swinerton team responded that they were taking the time up front to ensure the work they did throughout the project was right the first time. Within a few weeks, the owner's representative reported that Swinerton was way ahead of the other firm and the quality of the installation was visually apparent. This was a direct result of the scan, coordination, and verification process implemented by Swinerton.
Additional Benefits Derived
In addition to saving time and money with accurate as-built measurements and 3D coordination, Swinerton has realized other significant benefits from using the Leica RTC360 scanner:
Stronger proposals – When possible, Swinerton scans a prospective client's building during the proposal process, which helps them develop more accurate timelines and cost estimates.
More business – By using the Leica RTC360 scanner during the proposal process, Swinerton demonstrates their commitment to quality, accuracy, and innovative solutions, leading to a higher win rate.
Enhanced reputation – As Swinerton continues to consistently deliver high-quality work faster than the competition, they are enhancing their reputation with current and prospective clients and employees
Increased safety – By drastically reducing the time architects and construction workers spend measuring spaces and redoing work, Swinerton greatly reduces the chance of workplace injuries.
Reduced waste – The right parts are ordered the first time, so less material is carried to and from the work site and fewer parts are thrown away and instead stored for potential future use.
Improved aesthetics – Maintaining a client or architect's vision is much easier when construction workers don't need to make on-site adjustments to accommodate unexpected ducting, wiring, roof drains, cables, water, and gas lines, etc.
New service offerings – Swinerton now provides:

Other architects and design teams with accurate as-built measurements for their renovation projects
Building owners with scans of spaces that future tenants can use to customize the space to their specifications