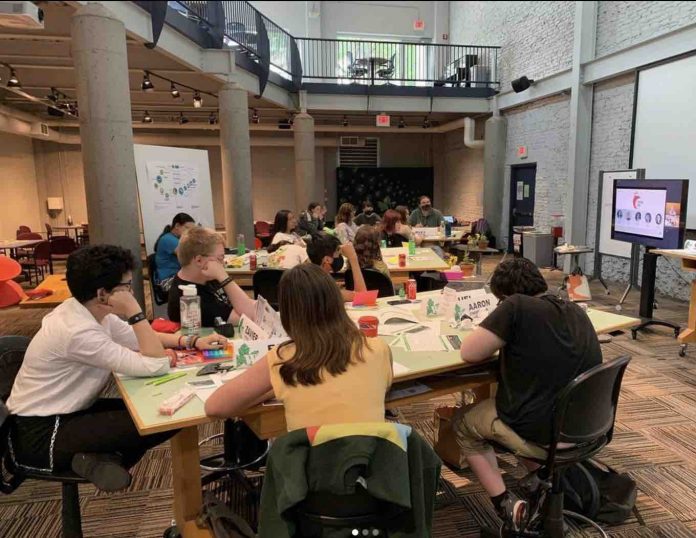 Wege Prize announces the second year of paid learning opportunity: 'Wege Prize High School | A Collaborative Studio' for students in grades 11-12
Workshop created by KCAD invites educators and school leaders to nominate passionate students to learn about whole-systems design thinking, sustainability, and the circular economy
Grand Rapids, Mich. — Kendall College of Art and Design (KCAD) has announced a second year of opportunities and applications for Wege Prize High School | Collaborative Studio, a unique learning experience that pays student participants $500 each. The organizers are calling on principals, teachers and counselors to nominate their most interested students for KCAD's successful summer program, which inspires and honors rising high school juniors and seniors with the stipend and a unique chance to collaboratively design circular solutions that address "wicked problems" found in West Michigan.
With a framework inspired by the globally recognized Wege Prize collegiate competition – whose international success has ensured its five-year continuation with a doubled total purse prize of USD $65,000 – the cutting edge, two-week high school student workshop was created by KCAD's Wege Center for Sustainable Design. During this session running from July 25th through August 5th, 2022, an academically talented cohort of 15 students from West Michigan schools will work together to first identify systemic issues that affect the region's community and environment — and then devise their own actionable and feasible solutions, whether a new service, business model, or project.
KCAD's program is open to only 15 West Michigan rising high school juniors and seniors. Students with diverse interest areas and eager, enthusiastic viewpoints are encouraged to apply.
There's no cost to participate — and each student receives a $500 stipend and daily free lunch.
Interested students can be nominated by an educator or apply on their own.
Students only need to submit their application for consideration by June 27th, 2022.
Accepted students will be notified on July 1, 2022. In the application, students detail their areas of interest and provide nomination and letters of recommendation from a teacher, employer, or counselor. They also describe personal experiences, passions, and awareness of related subjects.
About the Program
The students in Wege Prize High School | Collaborative Studio learn about varied topics and then advance through a design process that promotes co-creation and alignment with the core principles of the circular economy – instead of the current linear economic model of "take, make, and waste." The sessions are facilitated by experienced leaders and speakers who are experts in varied fields related to the environment, sustainability, business, waste management and more. These diverse leaders help guide students through their work, helping them build their ideas into fully researched, developed solutions that could be prototyped and tested in a real-world context.
"Wege Prize High School | Collaborative Studio not only offers students a platform for their voices to be heard through their own ideas to help solve today's wicked problems in West Michigan, but it also gives them access to personalized support from innovative thinkers who can elevate their goals," says Gayle DeBruyn, a KCAD professor of Collaborative Design who also leads Wege Prize.
By participating in Wege Prize High School | Collaborative Studio, students will be able to build lifelasting skills of community networking, team building, and personal development, says DeBruyn. Students also come away with portfolio-quality design work products, a certificate of completion, and letter of recommendations that can be used for college, internship, and job applications.
"We have designed our program to be a significant, transdisciplinary experience that teaches high school students about the importance today's increasingly influential ideas in regenerative and restorative solutions," adds DeBruyn. "It also opens their eyes to a range of future academic and professional opportunities, from higher education to career choices."
To submit an application or nominate a student, please visit: Wege Prize High School | Collaborative Studio. For press information or interviews, contact C.C. Sullivan.