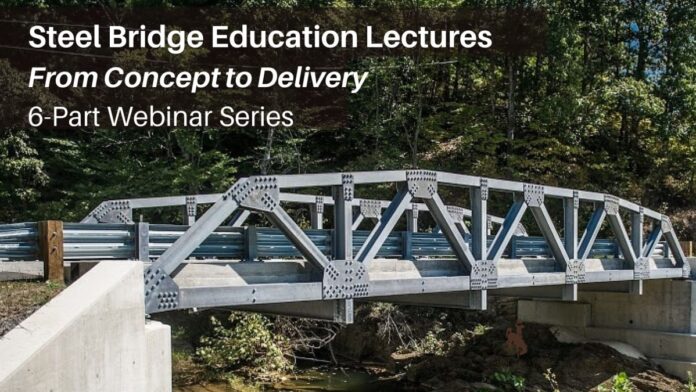 WASHINGTON, DC – Approximately 36 percent, or 224,000, bridges in the United States need repair or replacement. Funding provided through the Bipartisan Infrastructure Law (BIL) is opening up substantial opportunities to fix our nation's infrastructure with cost-effective and resilient steel bridges. The BIL is expected to create millions of new jobs, which will drive demand for an educated workforce. In response to this impending need, the Short Span Steel Bridge Alliance (SSSBA) is teaming up with the University of Wyoming, American Iron and Steel Institute (AISI), American Institute of Steel Construction (AISC) and National Steel Bridge Alliance (NSBA) to launch a free online six-part live-lecture educational series for students; faculty; county, state and federal bridge design professionals; steel producers and others with an interest in steel bridges.
The "Steel Bridge Education Lectures: From Concept to Delivery" webinar series will cover the many aspects of designing, fabricating and constructing steel bridges, which provide durable, efficient and sustainable infrastructure solutions. The online lectures will be held on Monday and Wednesday afternoons from 1:00 p.m. to 2:00 p.m. EDT during the weeks of March 20 – April 5, 2023. The lectures can be viewed synchronously (in real time) and asynchronously (recorded version).
The lectures will be delivered live by Michael Barker, Ph.D., P.E., professor of civil and architectural engineering at the University of Wyoming, via the WyoLearn Learning Management System. Dr. Barker has over 30 years of experience in bridge design and construction.
To earn a Certificate of Completion at the end of the series, participants must complete and pass a quiz after each lecture. The certificate can be used to build resumes or fulfill continuing education requirements.
More information on the lecture series, course syllabus and registration details are available here.
The Short Span Steel Bridge Alliance (SSSBA) is a group of bridge and buried soil steel structure industry leaders who have joined together to provide educational information on the design and construction of short span steel bridges in installations up to 140 feet in length. For more news or information, visit www.shortspansteelbridges.org or follow us on Twitter (@ShortSpanSteel), Facebook and LinkedIn.