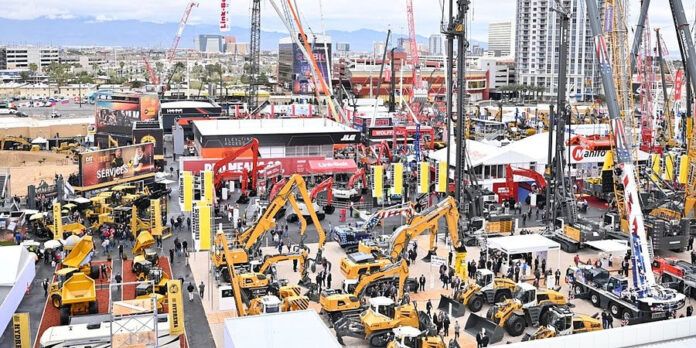 Pleasanton, Calif. — Simpson Strong-Tie, the leader in engineered structural connectors and building solutions, will bring a new category of asphalt reinforcement technologies designed to significantly improve the durability and drivability of paved surfaces to the 2023 CONEXPO-CON/AGG Construction Show March 14–18 in Las Vegas, NV.
Held every three years, CONEXPO-CON/AGG is the largest trade show in North America and the premier event connecting construction professionals with original equipment manufacturers (OEMs) in the asphalt, aggregate, concrete, earth-digging, lifting, and mining industries. Simpson Strong-Tie will introduce Carbophalt and Glasphalt grid reinforcements to CONEXPO-CON/AGG attendees at Booth# C32995 and demonstrate how application of asphalt reinforcement technologies will improve the sustainability, longevity, and resiliency of asphalt paved road surfaces in the US.
Extensively tested at the Advanced Pavement Research Center at the University of Texas at Arlington, Carbophalt and Glasphalt grid reinforcements limit water penetration and crack reflection in asphalt surfaces caused by heavy traffic, weather, and structural fatigue. Installation of these technologies can significantly increase the safety and service life of asphalt surfaces and roadbeds while mitigating the need for frequent, costly, and time-consuming repairs.
Featuring a proprietary weave that makes them easier to install on both straight and curved roadbeds, Simpson Strong-Tie asphalt grid reinforcements are flexible and presaturated with bitumen to ensure superior bonding between layers of asphalt and a positive lock into the pavement. Carbophalt and Glasphalt reinforcement grids are also 99% recyclable and can be easily re-milled back into asphalt aggregate with no decrease in performance, resulting in increased service life, lengthier renewal cycles, and less frequent maintenance work.
"Simpson Strong-Tie is excited to apply our experience with extensive category testing and research and development to the asphalt sector through the introduction of these innovative grid reinforcement technologies at CONEXPO-CON/AGG," says Simpson Strong-Tie market segment manager Corey Clark. "Carbophalt and Glasphalt solutions provide new levels of durability and safety to asphalt surfaces subject to heavy traffic and aggressive weather cycles."
For more information on Carbophalt and Glasphalt asphalt reinforcement grids from Simpson Strong-Tie, including case studies, performance metrics, and testing results from the Advanced Pavement Research Center, please visit strongtie.com/products/rps.