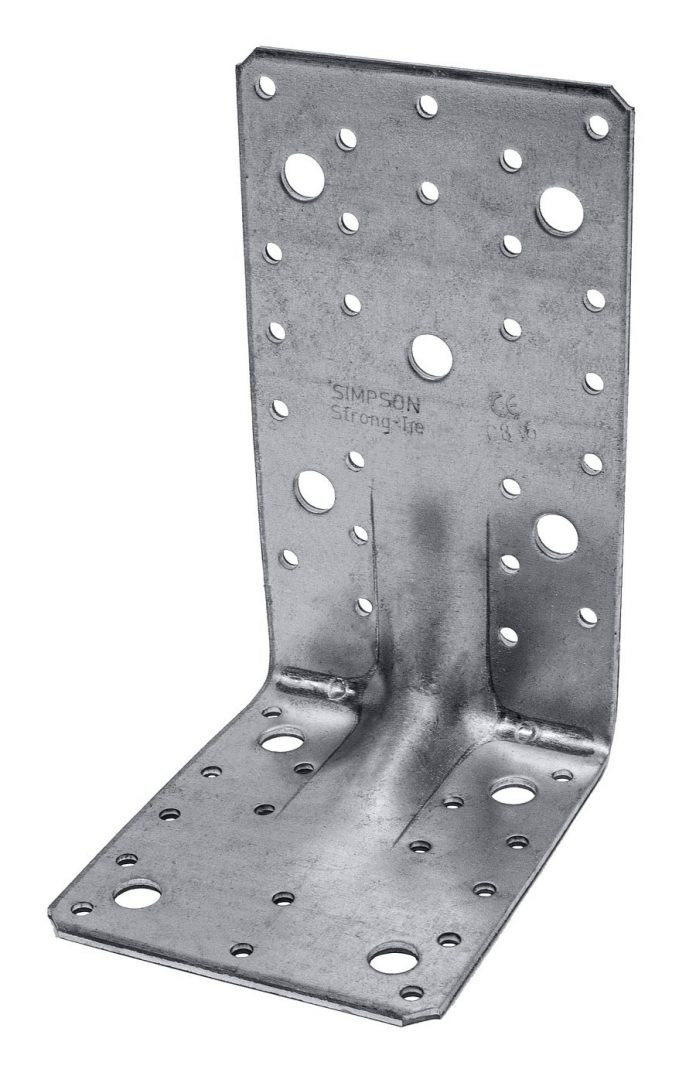 Pleasanton, Calif. — Simpson Strong-Tie, the leader in engineered structural connectors and building solutions, has introduced the E20/3 angle bracket as a versatile, off-the-shelf, pre-engineered and tested option for base-of-wall connections in mass timber applications where a gap is desired between the wall and slab to accommodate a sill plate or grout pad.
First introduced in the 1990s, cross-laminated timber (CLT) and other mass timber products provide the enhanced rigidity necessary for creating larger and taller wood-framed buildings. Recognized as a green building product for its ability to sequester carbon, mass timber is proliferating as specifiers seek sustainable structural building materials and builders embrace the efficiency and reduced waste of factory-based construction solutions.
The new E20/3 angle bracket is designed for efficiency and versatility and eliminates the need for custom fabrication of steel connectors on the jobsite. With an extended vertical leg, the E20/3 angle bracket is load rated for in-plane, out-of-plane, and uplift loads in designs with gaps up to 2″ between the wall and the slab. The bracket can be quickly installed in lower-capacity applications with only three SDHR screws or in higher-capacity applications with up to 18 SD screws or nails. The bracket connects to concrete slabs with 3/8″ Titen HD® anchors. (Anchors and fasteners are sold separately.)
"Simpson Strong-Tie is excited to offer a full range of tested, engineered structural connectors and building solutions for mass timber projects," says Randy Daudet, director of Global Offsite Construction at Simpson Strong-Tie. "The E20/3 angle bracket provides a versatile, off-the-shelf solution to help maximize efficiencies and cut construction schedules, allowing contractors to take on more projects even when they're operating with a reduced labor force."
Backed by a robust inventory and distribution system, along with first-rate service, support, and training, the E20/3 angle bracket will allow for design flexibility while enabling mass timber projects to be built stronger, faster, and more easily than ever.
For more information on the new E20/3 angle bracket or to learn more about how Simpson Strong-Tie can improve your next mass timber job, visit go.strongtie.com/masstimber or call (800) 999-5099.
About Simpson Strong-Tie Company Inc.
Simpson Strong-Tie is the world leader in structural solutions — products and technology that help people design and build safer, stronger homes, buildings, and communities. As a pioneer in the building industry, we have an unmatched passion for problem solving through skillful engineering and thoughtful innovation. Our structural systems research and rigorous testing enable us to design code-listed, value-engineered solutions for a multitude of applications in wood, steel, and concrete structures. Our dedication to pursuing ever-better construction products and technology and to surrounding our customers with exceptional service and support has been core to our mission since 1956. For more information, visit strongtie.com and follow us on Facebook, Twitter, YouTube and LinkedIn.