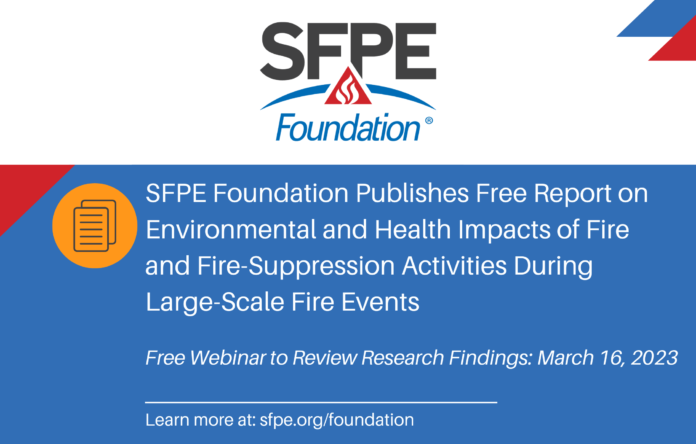 The SFPE Foundation, a charitable organization focused on enhancing the scientific understanding of fire and its interaction with the social, natural, and built environments, announces the conclusion of its research project and the publication of a report on the environmental and health impacts of fire and fire-suppression activities during large-scale fire events.
The primary objective of this research project was to characterize the environmental and health impacts of wildland and structural, large-scale fire events. Led by Jamie L. McAllister, P.E., Ph.D., Brendan McCarrick, P.E., Zelda Q. Zhao, and Curtis Fagan, the work included a literature review of large-scale fire incidents, identification of current large-scale incident impact monitoring capabilities, identification of standards and industry best practices for quantification of large-scale incident impacts, and a gap analysis. The findings have been published in the free report titled "Environmental and Health Impacts of Fire and Fire-Suppression Activities During Large-Scale Fire Events" available on sfpe.org/foundation.
On March 16, 2023, the SFPE Foundation is hosting a free webinar to review findings of the research, the gap analysis, and future work recommendations. Learn more and sign up at sfpe.org.
"This research provides foundational insight while highlighting the need for the fire engineering community to align research efforts and collaborate with a diverse array of stakeholders to advance our understanding of the impacts of fire and fire suppression activities during large-scale events," stated Leslie Marshall, Ph.D., Director, SFPE Foundation. "The SFPE Foundation remains committed to advancing the science of resilience, sustainability, and fires in the wildland-urban interface, as prioritized in the SFPE Research Roadmap."
Financing for SFPE Foundation-funded research is provided through the generous support of donors, including SFPE, SFPE chapters, SFPE members, governmental agencies, leading companies and organizations, and others. Demand for SFPE Foundation research funding support far exceeds available funds. The SFPE Foundation periodically invites research proposals through both open calls and specific requests for proposals.
Additional information about the SFPE Foundation, its programs, and this research project is available at sfpe.org/foundation.