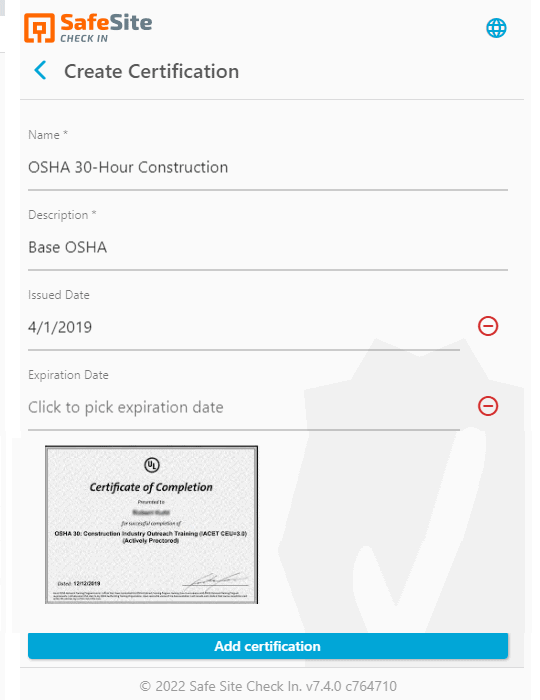 New features in Jobsite Management Platform reduce construction labor gap and lower risks for general contractors

SAN FRANCISCO –  The Safe Site Check In jobsite management platform's newest features address three of the biggest challenges facing the construction industry. The first challenge is the skilled worker shortage. According to the Associated General Contractors of America, 89% of contractors are having a difficult time finding qualified workers to hire, therefore impacting the time and cost of building. The second challenge is ensuring maximum productivity and profitability on each job site without compromising safety. And the third challenge is addressing the industry's digital transformation with technology that is easy to use and delivers rapid improvements in efficiency and productivity.
Safe Site Check In Workforce features:
Worker Profiles: Site supervisors can now know the skills, certifications, safety training, licenses, and completed projects of every worker on their jobsite. Skilled tradespeople have the opportunity to showcase their expertise by completing their profile, which is linked to Safe Site Check In jobsite data. Profile data can be used to better enforce safety procedures and ensure compliance.
Verifiable digital check-in data: Workers, subcontractors and visitors can digitally confirm they have read and understand jobsite requirements, watched training videos, attended safety talks, or agree to any additional waivers or compliance forms required at a site.
Reduced risk of litigation: To mitigate legal risks, general contractors can customize the questions workers, subcontractors and visitors are asked on the jobsite, can view and audit the responses, and have a digital record in the event of an incident or investigation.
Integration with project management platforms: Safe Site Check In eliminates time consuming data entry on the jobsite. The check in data includes workers and subcontractors, their location and assignment. This information is crowdsourced to quickly populate the daily log and can be easily uploaded into project management platforms including Procore.
"The construction industry was disrupted by the pandemic, supply chain issues, and the labor shortage. And yet the demand for commercial and residential projects remains high," said Amanda Joinson, director of marketing and administration, Phelps Construction Group. "The only way to keep up is through the use of digital transformation products like Safe Site Check In. It allows us to identify and proactively address unnecessary admin and labor costs while protecting our clients, projects, and business."
To use Safe Site Check In Workforce, general contractors go to the Safe Site Check In website to select the Advanced Edition and within minutes can quickly set up a QR-coded check-in site. When construction workers and subcontractors arrive at a jobsite, they check in and create or update their profiles including work history, certifications, areas of expertise, and recent safety training. Member profiles are available to companies registered in the Safe Site Check In Company Network. For workers that have completed projects that use Safe Site Check In, insight from each project can be used to augment a worker's profile.
"The construction labor shortage has been a decades-long challenge. Along with general contractors striving to meet client demands using a skilled workforce, they are also faced with ensuring the next generation of workers are properly trained," said David Ward, CEO, Safe Site Check In. "With Safe Site Check In Workforce, construction firms have a way to address those issues by aligning workers and subcontractors with project needs and easily identify where they need to close skills gaps."
Construction firms of all sizes rely on Safe Site Check In's QR-code based digital check in app and jobsite management platform. It streamlines and digitizes the jobsite check-in process, provides insight and digital records of who is or was on a jobsite, the location of the site, and the worker's assignment. Also, site supervisors can broadcast alerts and workers can easily upload images and text showing the status of each project.
Safe Site Check In data, analytics and reports can be used for compliance, payroll, verifying attendance, and analyzing project and performance trends. When integrated with a project management platform, Safe Site Check In data bridges the gap between jobsite performance and project profitability.
Safe Site Check In has been used by more than 100,000 construction workers and jobsite visitors at over 150 companies in the U.S., Canada, Australia, and the United Kingdom. Customers save an average of $2.55 each time a worker or subcontractor checks in to a jobsite digitally vs paper.