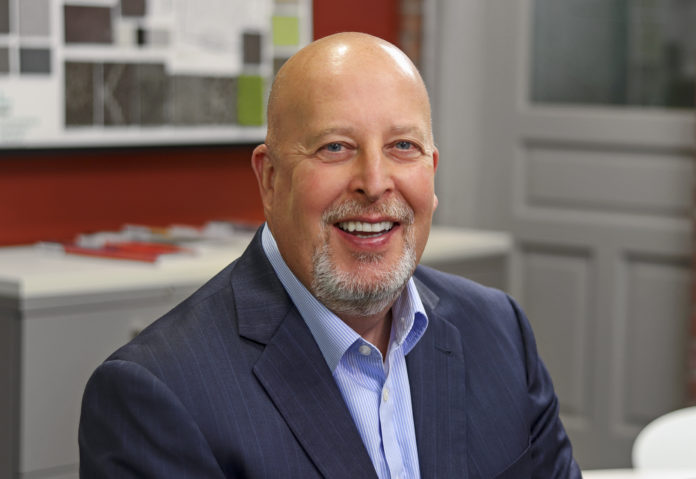 The leadership of Indianapolis-based Schmidt Associates, a regional architecture, engineering, and interior design firm, is pleased to announce that Chief Operations Officer and Principal, Ron Fisher, AIA, LEED AP has received the Edward D. Pierre award from the American Institute of Architects (AIA) Indiana chapter.
Throughout his 43-year career, Fisher has served as a board member and chairman of the facilities committee for WFYI Public Media, a board member for the East Tenth United Methodist Children and Youth Center, the Franklin Township Education Foundation, the Greater Indianapolis Progress Committee, and President of the Indianapolis Sunrise Optimist Club. Additionally, he is a member of the Ball State University Fellows Society, he serves on multiple task forces and planning committees for the Ball State College of Architecture and Planning (CAP), has established a Schmidt Associates scholarship for CAP students, and was a founding member of the CAP Alumni Society. Fisher also has contributed to AIA Indianapolis, Indiana, and the national organization as both a committee and board member. In Indianapolis, Fisher is a member of the Indianapolis Compliance Board of Demolition Contractors as an appointed architect and the Indianapolis Compliance Board of Demolition Contractors where he has worked with Mayors Bart Peterson, Greg Ballard, and Joe Hogsett.
"Ron's commitment and dedication to servant leadership spans decades," said CEO and Principal Sarah Hempstead. "Modeling this ethos both within the firm and central Indiana community, Ron knows the importance architects and designers can play in setting an effective foundation."
As a young man, Fisher enjoyed drawing, building, and constantly improving the world around him. Realizing these innate talents, he knew he would pursue a career in architecture. Years later, he has left an indelible mark. Whether as an architect and principal-in-charge, trusted business advisor, community volunteer, or mentor, Fisher's leadership and business acumen has resulted in him being recognized with the CAP Outstanding Achievement Award in 2005 and the CAP Distinguished Alumni Award in 2021.
Those who are familiar with Fisher's talent are quick to share how he has impacted his community. Through his work with WFYI Public Media, Fisher was instrumental in advising the organization on ways to keep employees and visitors safe during COVID-19, as well as how to manage the facility while serving audiences during such a vital time.
"By working with our staff and listening to what they need to be productive, Ron helped us redesign our building so that we could remain open during the height of the COVID-19 pandemic when our members and the community needed us most," said WFYI Public Media President and CEO, Greg Petrowich. "His commitment to his community and profession is truly exemplary."
For East Tenth United Methodist Children and Youth Center, Fisher has helped children by providing valuable business counsel that has resulted in the Center prospering. Whether volunteering to beautify the Center's campus, running cornhole tournaments or involving his family in planning events, he's proven to be an asset.

"Ron has been instrumental in everything he does for the Center, and I know I can always count on him for advice about the Center's future," said Executive Director Jean Casmir Hill. "His work has helped us care for and educate hundreds of young people, and our children are better off because of him."