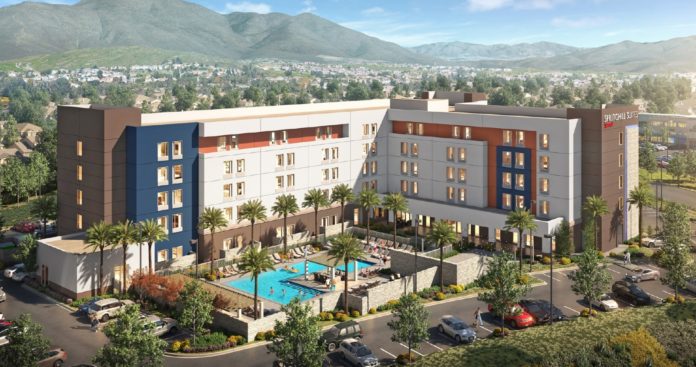 R.D. Olson Construction, an award-winning general contracting firm in California, today announced that construction is underway on Springhill Suites by Marriot in Chula Vista, California. The 5-story, 179-key hotel is expected to reach completion by December 2023.
Located at 870 Showroom Place in Chula Vista, California, the $38 million, 127,628-square-foot project is a continuation of the firm's growing San Diego presence and is an opportune addition to the Chula Vista market as it buds with new retail and business developments.
Built using wood framed type IIIA construction over a Type1 concrete podium, the on grade structure features an EIFS exterior with a contemporary architectural design. Guest rooms feature generation 4.5 prototype furniture, fixtures and equipment (FFE). The ground-up construction is on a tiered and elevated 2.75-acre site.
To encompass the spirit of community, amenities will include a lounge, bar, buffet, meeting room, rim flow pool, jacuzzi, cabanas, fire pits, activity area, pavilion, event lawn, barbeques and fitness room. The public areas and lobby will include custom interior finishes while the lobby showcases custom millwork features.
"As the premier hotel builder in California, R.D. Olson is well versed in delivering top-notch hospitality projects," said Bill Wilhelm, president at R.D. Olson Construction. "Our experience with this product type, construction and budgeting proficiency as well as our rapport with the architect will all convene to deliver an impactful new development to the Chula Vista community."
R.D. Olson is again partnering with architect, Lee & Sakahara and Interior Designer, Design Studio on the project.
About R.D. Olson Construction
Founded by Bob Olson in 1979 and led by President Bill Wilhelm, R.D. Olson Construction commemorates 43 years of building and is one of the top 40 general contracting firms in California. R.D. Olson Construction is a premier builder of hotel and multi-unit properties for several national hoteliers and developers, including Marriott, Hilton, Hyatt, Ritz Carlton, MBK Living, Related Properties and Meta Housing, and has a robust portfolio of renovation projects including Atria Senior Housing, Chapman University's Reeves Hall, the conversion of the historic Bank of Italy Building into the Nomad Hotel and more. The firm also has a rich history as a builder of office, retail, restaurant, education, senior living and recreational projects. Learn more at www.rdolson.com.