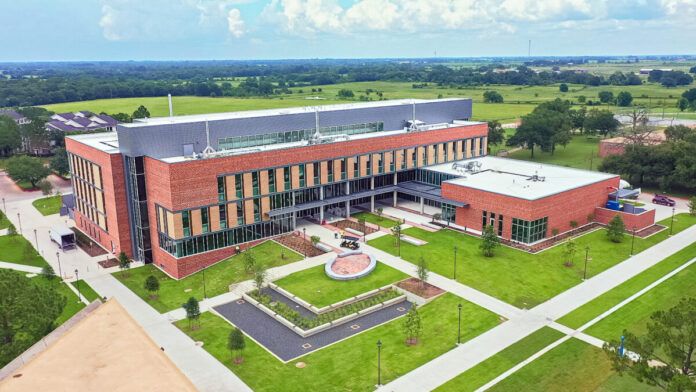 PRAIRIE VIEW,Texas (June 22, 2023) – Today, Prairie View A&M University officially opened its new $70 million Engineering Classroom and Research Building. In its 75th year, ENCARB is the sixth building to be added to the Roy G. Perry College of Engineering complex.
Nearly two-thirds of ENCARB's 106,000 square feet are dedicated to classroom instruction and specialized labs. The lab spaces support multidisciplinary research in space exploration, data analytics and artificial intelligence, robotics, structural analysis, 3-D manufacturing, and more. The remaining third of the facility provides dedicated research lab space for faculty and graduate students.
"Since the early 1940s, the engineering education at Prairie View A&M University has focused on educating and preparing scholars to become paramount members of society capable of groundbreaking discoveries to solve real-world problems. We have continued a rich legacy of producing top engineers, computer scientists and technologists. Today is a testament to the College's mission," said Dean Pamela H. Obiomon, Ph.D.
Today's ribbon cutting was the first significant event for PVAMU's new president, Dr. Tomikia P. LeGrande. You can find an interview with Dr. LeGrande here and complete footage of the event here. A downloadable image of the new building can be found here. Please use the courtesy Prairie View A&M University for all materials.