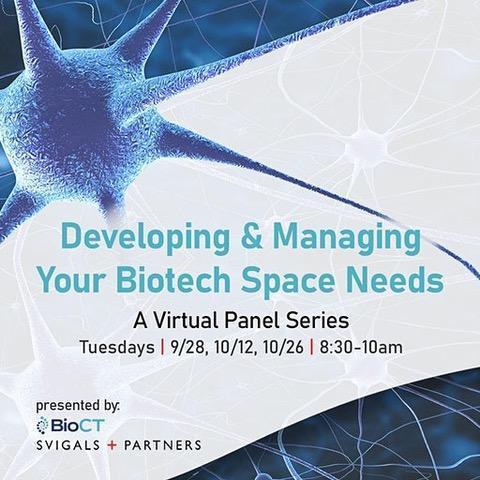 NEW HAVEN, CONN. – With often-elusive tech advancements influencing laboratories' unique workplace needs, a select group of experts in biotech office design and practices is offering time-tested solutions for successful, profitable, and enduring laboratory designs.
Hosted by renowned authority in state-of-the-art laboratory and research center design, the architecture, art and advisory firm Svigals + Partners and bioscience industry firm BioCT, the three-session, virtual panel event, "Developing and Managing Your Biotech Space Needs," will explore optimal locations for biotech spaces, designs for a maximum return on investment, and creating lasting spaces.
During the each 90-minute session, business and biotech researchers and professionals will learn about developing and growing their operations from the moderated discussion's four expert panelists in prominent academic, bioscience, building-owner, and design specialties. The session topics will cover determing influences related to a laboratory's location, investment involved, and changing needs, including: "Choosing the Best Location for Your Laboratory Facility "(Sept. 28, 2021), "Designing Your Lab for Maximum ROI "(Oct. 12, 2021), and "Lab Space Life Cycle & Lessons Learned" (Octo. 26, 2021).
Registered attendees can submit questions in advance of each session and will be able to post queries during the programs for live and follow-up answers.
"Successful laboratories and research centers incorporate a combination of spaces dedicated to lab work, support teams, and office needs in a layout that maximizes efficiency and operations, along with the success of the research being conducted and the wellbeing of those involved," says panelist Bob Skolozdra, AIA, a partner with Svigals + Partners, who has directed more than 200 research laboratory projects, including the first LEED-CI rated laboratory renovation in the country.
For information and free registration click here: Developing and Managing Your Biotech Space Needs.