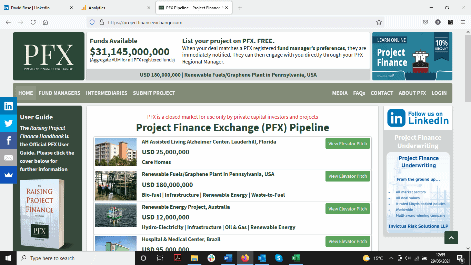 'Closed' marketplace provides direct access to 'vast reserve' of private capital for construction and infra projects
London | The Project Finance Exchange (PFX), a 'closed' marketplace where capital-raising construction and infrastructure projects can connect and engage seamlessly with private fund managers, has grown to over $30bn aggregate capital available within its first three months of opening in April.  Over two decades the 'project finance' structure has evolved from being exclusive to mega-dollar infrastructure and major construction deals, to deal values ranging as low as $5m and high as $10bn+ across all market sectors.  Funding is provided overwhelmingly by private capital lenders including hedge funds, private equity and debt funds, alternative investment funds, investment banks, family offices and many other reservoirs of private capital.
PFX research revealed that Eurekahedge, a leading market information provider, has almost 27,000 private capital funds on its database.  Using asset allocation data from the Cap-Gemini World Wealth Report 2020, PFX calculates $20.35tn of private capital ready to be allocated into real estate and alternative investments (which includes project finance), but publishes a conservative estimate of $2tn.  PFX believes that this vast capital reserve means there is no reason why any viable construction or infrastructure project should fail at the financing stage, or for any government to load all their 'build back better' costs onto taxpayers.
Whilst the market has grown exponentially, the defining project finance tenet still prevails in that lending is predicated on the track record and financial stability of whoever is contracted to buy the output from the built project, the 'off-taker', and not on forecasts in a business plan or investment prospectus.  For construction this means whoever the Operations and Management Agreement (OMA) or other end-user agreement for the built project is with, or the project sponsors themselves if they meet the necessary financial and track record criteria.  In some instances a credible feasibility study will be acceptable to lenders.  Also the lead contractor, in project finance terms the 'Engineering, Procurement and Construction (EPC)' contractor, needs to meet the same track record and financial stability criteria as the 'off-taker'.
The unique project finance structure provides the risk-mitigated long-term returns that private investors seek, making private debt the preferred structure for most fund managers.  Project finance is 'non-recourse', meaning it leaves the project principals be they a team, private company or government free and clear of any financial liability whatsoever.
PFX Chairman David Rose said: "As the project finance market grew and evolved over the past two decades it became increasingly crowded and opaque, to the point where it was virtually impossible for the buy- and sell-sides to connect and engage.  That does not detract from the fact that there is a vast reserve of capital, which we estimate to be a minimum two trillion dollars and known in the market as 'dry powder', ready and waiting to finance new projects.  It has been hiding in plain sight for two decades, simply because there has never been any structure to the market.  The impetus to build PFX came from within the market itself including fund managers, intermediaries and project teams frustrated by the ever-growing fragmentation.  Our research showed that nobody wanted yet another 'investment platform', but an intuitive fintech-driven framework that works within existing contact and engagement protocols, and meets all the confidentiality and non-disclosure criteria that everyone has come to expect.  PFX is, therefore, a 'closed' market exclusive to project finance."
While the most recent 15 PFX Elevator Pitches are displayed on the home page, they contain no identifying information.  Only registered fund managers can access all deals and click through to the Executive Summary containing all the information they would expect to see.  Applying for project finance is far removed from producing the traditional business plan or investment prospectus.  PFX has published a user guide, The Raising Project Finance Handbook, which is available from their site.
In closing, Rose said: "It's free to list projects on PFX which are all quality controlled by our Regional Managers, from Elevator Pitch thru Executive Summary to Full Deck.  No-one can list their own project.  Fund managers can enhance their deal origination by registering, free, and setting their investment preferences, with commission terms on completed transactions reflecting the current market.  The funder's identity is disclosed only to the PFX Regional Manager handling deals they wish to engage with."