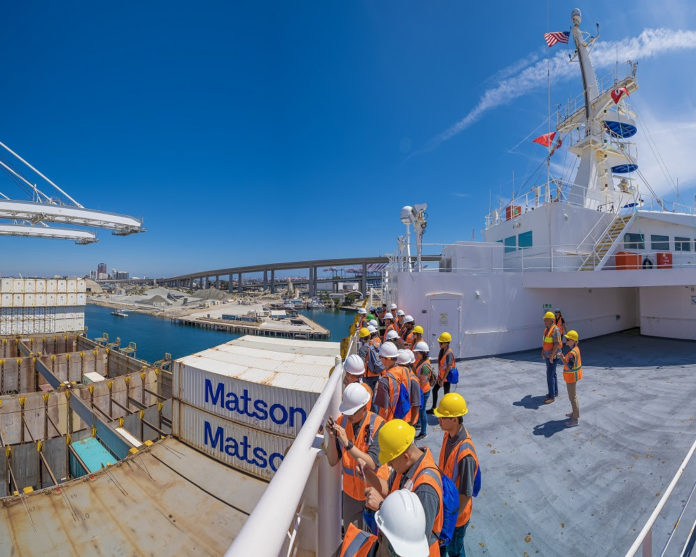 Applications are available for the Port of Long Beach's scholarship and internship programs for Long Beach-area high school students. Program details, eligibility information and the online application can be found on the Port's website at polb.com/education.
The scholarships are open to high school seniors attending Long Beach Unified School District service area high schools and pursuing careers in international trade and business, logistics, engineering, environmental planning and other port-related fields.
The 2023 scholarship program was expanded to include trade and vocational program students, including those attending part-time. The Port will award a total of $200,000 for scholarships, in amounts ranging from $500 to $5,000. High school students can apply via the Port website.
Applications for Port scholarships for college students at Long Beach City College, California State University, Long Beach, and California Maritime Academy are handled in each school's scholarship application office, and students at those schools should contact those offices for deadlines and other details.
High school internships are available to current juniors and seniors who reside in Long Beach or are current high school juniors and seniors in the Long Beach Unified School District service area. The Port's paid six-week program offers real work experience and mentoring for those interested in careers in international trade and related fields.
"Our education initiatives like the internship and scholarship programs are so valuable for students pursuing careers in the many fields that are related to the goods movement and logistics industry," said Port of Long Beach Executive Director Mario Cordero. "We want to help create future maritime industry leaders."
"The scholarships and internships facilitated by the Port of Long Beach are a wonderful opportunity for Long Beach-area students. The internships provide the students real-life, on-the-job training and skills while the scholarships help pay for college expenses," said Long Beach Harbor Commission President Sharon L. Weissman. "We are thrilled to once again offer students this support."
Applications for the Port high school scholarship and internship programs are due March 1; no late applications will be accepted. Applicants are advised to read the instructions carefully.
Two information sessions have been scheduled for those wishing to learn more about the high school internship program:
Session #1 (in-person):
Saturday, Feb. 11, 9-10 a.m.
Port Administration Building 415 W. Ocean Blvd. Long Beach CA 90802
Click here to RSVP
Session #2 (virtual, via Zoom):
Thursday, Feb. 16, 6:30-7:30 p.m.
Click here to RSVP
The Port of Long Beach is one of the world's premier seaports, a gateway for trans-Pacific trade and a trailblazer in goods movement and environmental stewardship. With 175 shipping lines connecting Long Beach to 217 seaports, the Port handles $200 billion in trade annually, supporting hundreds of thousands of Southern California jobs.