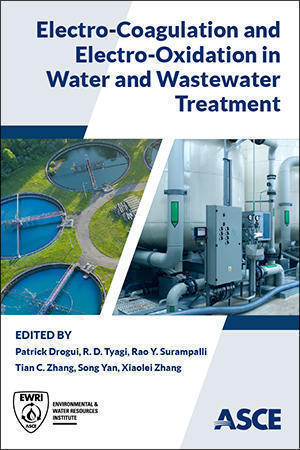 Reston, Va. – Electro-coagulation (EC) and electro-oxidation (EO) are based on the principle of introducing an electrical current to induce chemical reactions in the system, causing the destabilization of most pollutants (e.g., suspended particles, bacteria, viruses, dissolved materials, metals, hydrocarbons, and many organics). Using a coupled technique, EC coagulates and removes suspended particles, and then EO oxidizes the remaining organics. The latest American Society of Civil Engineers (ASCE) publication, Electro-Coagulation and Electro-Oxidation in Water and Wastewater Treatment, provides current state-of-the-art fundamentals and applications of electro-coagulation and electro-oxidation for water and wastewater treatment.
The book presents an overview of the origins, principles, benefits, impacts, and applications of EC and EO processes. Topics include
Mathematical modeling of EC and EO;
Combinations of EC with other treatment or emerging technologies;
Environmental applications of EC and EO processes;
Comparative studies among EC, adsorption, and chemical precipitation;
Comparative studies among EO and other oxidation processes;
Cost comparison of EC/EO processes with other clean-up technologies; and
Challenges and future perspectives of EC and EO processes.
Researchers, scientists, engineers, students, policymakers, and government officials will find this book to be an essential reference of comprehensive information on EC and EO in water and wastewater treatment.
To purchase online, visit the ASCE Bookstore
ABOUT THE AMERICAN SOCIETY OF CIVIL ENGINEERS
Founded in 1852, the American Society of Civil Engineers represents more than 150,000 civil engineers worldwide and is America's oldest national engineering society. ASCE works to raise awareness of the need to maintain and modernize the nation's infrastructure using sustainable and resilient practices, advocates for increasing and optimizing investment in infrastructure, and improve engineering knowledge and competency.