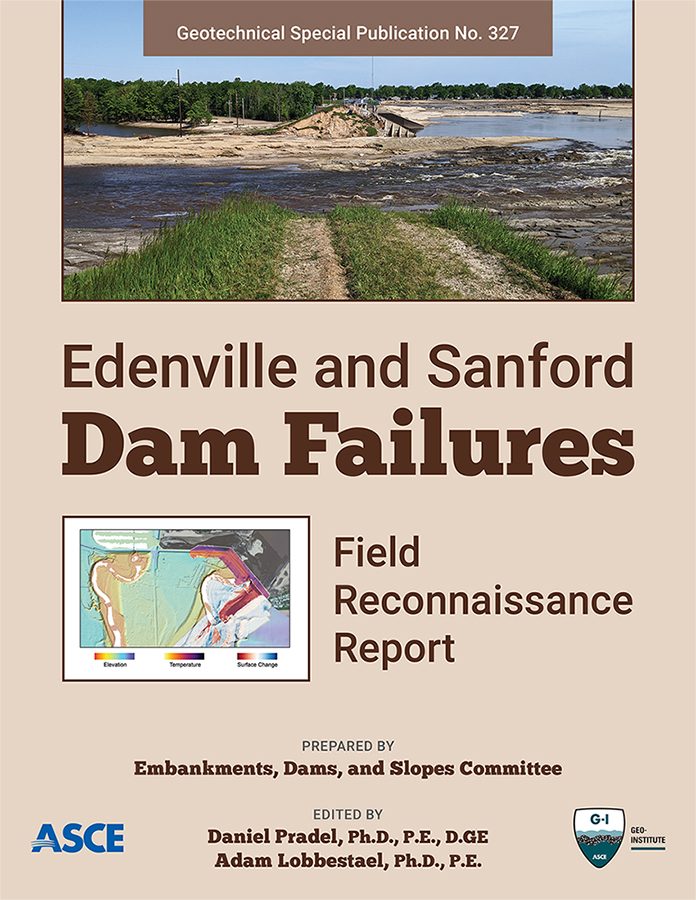 Reston, Va. – Following heavy rains in May 2020, the Edenville Dam, and subsequently the Sanford Dam in Midland, Michigan, failed massively. The American Society of Civil Engineers (ASCE) newest publication, Edenville and Sanford Dam Failures: Field Reconnaissance Report, GSP 327, presents the results of on-ground and aerial assessments that took place in the weeks following the failures.
Waters released by the breach of the Edenville Dam overwhelmed the Sanford Dam which was overtopped and failed on the morning of May 20, 2020 resulting in the evacuation of 11,000 people in the surrounding areas of Midland, Michigan, and along the Tittabawassee and Tobacco rivers.
Employing aerial reconnaissance using optical, thermal, and LiDAR sensors; geophysical testing including seismic surveys and electrical resistivity surveys; geological reconnaissance, the team assessed the nature of the geological materials; geotechnical sampling and laboratory testing including, moisture, density, grain size distribution, shear strength, and permeability testing; post-failure condition assessments; and reviewed historical documents and pre-failure LiDAR and satellite data.
Focusing on the application of multi-sensor techniques to collect perishable data immediately after a disaster, this Geotechnical Special Publication will assist practitioners, researchers, and community stakeholders in areas where old earth dams are nearing the end of their design life.
To purchase online, visit the ASCE Bookstore