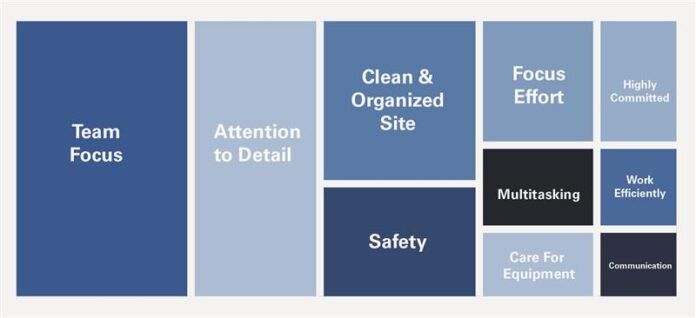 By Tim Taylor, P.E., Ph.D.
The United States is at a critical crossroad. Manufacturing is seeking to develop onshore capacity to respond to supply chain disruptions. The energy sector is attempting to decarbonize to respond to environmental and regulatory pressures. Government and industry are investing in infrastructure to rebuild roads and bridges, expand public transit, and upgrade the power grid. These initiatives represent significant economic and national security interests that cannot be accomplished without a robust construction sector.
We need more of the right people to keep future construction projects on track. Statistics show that for every four people leaving the construction industry, only one enters. But in order to keep up, it's not just about numbers. Women are frequently cited as an important demographic that could help solve the craft labor shortages. However, only 11 percent of the overall construction workforce—and less than 4 percent in craft professional positions—are women. These percentages show that the construction industry is missing the positive impacts that women craft professionals bring to projects.
The National Center for Construction Education and Research (NCCER) performed research to identify the positive impacts that tradeswomen have on project outcomes. Through focus groups with 176 tradeswomen across the US and Canada, the women themselves and their management teams identified that women bring a greater sense of unity to the crews, are more safety focused, tend to follow the prescribed work processes more closely, pay closer attention to details, and focus more on jobsite cleanliness and organization all of which leads to improved project outcomes.
"Women are role model workers. They want to work safely. They follow process and procedure. Generally, I find that [women adhere] better to compliance and HSE process and procedures," said a senior project manager for a large industrial project.
Figure 1 summarizes the responses from the tradeswomen based on the frequency the benefits were brought up during the discussions (size of the box in the chart shows the frequency of response for each category). The most frequently noted benefits were consistent focus on teamwork, attention to detail, jobsite cleanliness and organization, and improved safety performance.
Following processes
These specific benefits were not just identified by the women themselves, but by members of project management teams who participated in separate focus groups. A further discussion ensued around how technology and engineering has reduced or removed the reliance on physical strength and improved efficiencies. This led the management team members to share how women are much more focused on following the prescribed work process as designed instead of relying on experience and physical strength. This in turn can result in positive effects on safety and reduce injuries. Furthermore, it was stated that women follow the plan and think through how they can complete the work without rushing into it. They tend to follow directions and pay more attention to how they are performing tasks which leads to a consistent focus on details (Ibarra and Obodaru, O. 2009).
One focus group participant said: "Women are more likely to be perfectionists. That can be a positive and a negative, but when it comes down to it, we're way more likely to double check our own work. Another thing we bring to the table is the ability to follow processes and pay attention to details."
Supporting the Team
One manager described the creation of cohesive teams when women were part of the crew. "Being a person on site that men and women can confide in is something that employers really value. [Women help to] create the family within the team," said a senior project manager for a large industrial project.
Additional data affirms the positive impact tradeswomen have on overall crew performance. A survey of 2,780 construction craft professionals asked respondents to rate their personal performance record (including safety, attendance, quality, productivity, and initiative) for the previous year. Respondents with at least one woman on their work crew reported higher individual performance than those in all male crews, and the difference was statistically significant (Construction Industry Institute RT-370). This correlates with the focus groups' identification of teamwork being a benefit women bring to project sites.
The women emphasized that many of their male colleagues were largely focused on personal and individual achievements rather than the overall performance of the crew. In contrast, women were more focused on making sure that the entire team was functioning at a high level rather than on their own individual achievement. This type of support spreads beyond just the technical aspects of the job and into the emotional health of the team. With the increased awareness and focus on mental health, this type of positive impact on crew dynamics can have lasting effects beyond the project site. Said one participant: "I like the way that people have each other's back. I see people being there for each other, especially in your own trade."
Organized Job Sites
Finally, keeping a clean and organized jobsite, better known as "housekeeping" in OSHA 1926.25, is a recognized element in project productivity and safety performance. The Laborers' Health and Safety Fund of North America highlighted the importance of housekeeping stating, "Housekeeping is not just cleanliness. It includes keeping work areas neat and orderly…" They also highlighted the importance of continual housekeeping stating, "Keeping a site clean and organized is an ongoing operation. Periodic 'panic' cleanups are costly and ineffective in reducing accidents. Housekeeping must be done regularly, not just at the end of the shift" (Parsons 2013) The tradeswomen repeatedly noted that they were more attentive to continually maintaining a clean and organized jobsite than their male colleagues and management agreed.
Despite the significant benefits offered by tradeswomen, the construction industry has largely neglected this valuable resource. Rebuilding the US manufacturing, energy, and transportation infrastructure is a multi-generational challenge that will require a diverse workforce that leverages all facets of our society to overcome it. This same diversity brings benefits beyond sheer numbers and ultimately results in a better work environment, project execution, and safety which ultimately leads to improved project outcomes.
---
Tim Taylor, P.E., Ph.D., is the Director of Research for the National Center for Construction Education and Research (NCCER) and a former chair professor of civil engineering at the University of Kentucky. His field experience comes from working in his family's excavation company, in the coal industry as pit foreman and mine support engineer, and later as railroad superintendent for Luminant, Martin Lake Mine. His academic career includes many honors and awards and leading numerous construction industry research projects.