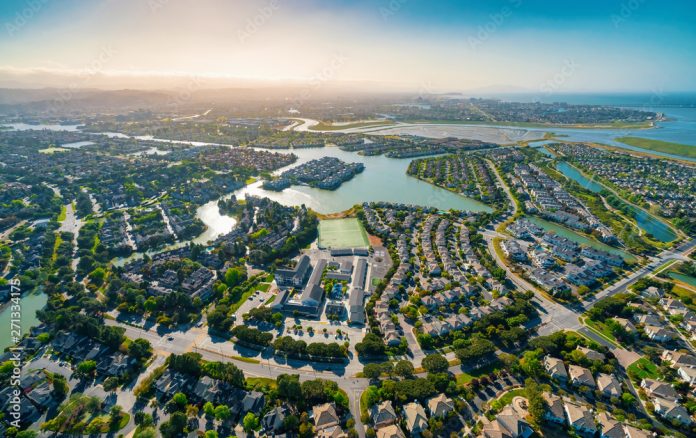 FOSTER CITY, Calif. – KTGY, a leading full-service architecture, branding, interior and planning firm focused on residential, retail, hospitality and mixed-use developments, today announced the opening of model units at Laguna Vista, a three-story residential community near downtown San Mateo, with both apartments and townhomes designed for families, young professionals and city employees. Located within close proximity to shopping, canals, water channels and open space, Laguna Vista is one of the few developments in the area to provide high-end townhomes creating greater opportunities for homebuyers while also delivering workforce apartments for Foster City employees. As part of a program to provide inclusionary housing, these spacious homes aim to attract a more diverse group of residents and make it possible for public servants to live near where they work. While construction on the community continues for the next few months, model units are complete and available for tours.
Laguna Vista is designed to maximize its proximity to the existing Laguna Vista Park, directly across from the community, providing easy access to a tot lot, bocce ball courts and shaded seating areas. The site is designed with a network of pathways that encourage active mobility and provide easy access to the park and neighboring offerings, including City Hall, the Foster City public library and nearby shopping and entertainment.
The surrounding area has been recently redeveloped from office space into high-density residential to help alleviate housing shortages in the Bay Area. Laguna Vista is the final piece to complete this new, residential-focused neighborhood with proximity to Highway 101 to pique commuter interest.
"This new development allowed KTGY to contribute to revitalizing a community," said David Burton, Executive Director at KTGY. "By embracing the neighborhood's surroundings, beautiful views and recreational opportunities unique to Foster City, we were able to design a distinguished community that welcomes a diverse group of residents."
While the workforce rental apartments and the for-sale townhomes sit on distinct parcels, KTGY tied them together aesthetically to provide a cohesive neighborhood. The modern style and bold color palette, including greens, blues and reds, are accented with wood balcony railings and metal canopies over doors, which bring a heightened charm to these homes and create a rhythm across the façade of the buildings. The property's exterior materials are primarily painted stucco and lap siding.
Many units include spacious lofts and workstations or elongated countertops to accommodate work-from-home conditions. Inspired by modern influences, Laguna Vista is designed to combine the conveniences of urban dwellings with the local landscape to benefit the community.
While there were challenges to site planning and height restrictions on one edge of the property, KTGY designed each home to maximize unit density while providing ample parking and a visually coherent design to optimize views from each unit.
Laguna Vista offers 70 townhomes, the majority of which are three- and four-bedroom units ranging from 1,468-2,089 square feet, and 22 workforce apartments which are one- and two-bedroom units ranging from 720-1,056 square feet. The parking program, which includes 214 spaces for residents of both the townhomes and apartments, was carefully designed by KTGY to minimize the impact of cars on one's experience of the site.
With housing shortages across the region and to promote greater work/life satisfaction, the workforce housing will provide city employees the opportunity to rent at below market rates, helping them save for a future mortgage and down payment when they are ready to purchase a home in the area.
"We are very excited to introduce a new vibrant community in such a premier location," said Chris Neighbor, President of SummerHill Homes. "Laguna Vista in Foster City is the hidden gem in the Bay Area; with proximity to the lagoon and great commute access, it provides the perfect hybrid work/life balance. Laguna Vista will cater to the needs of the modern homebuyer by meeting the growing demand for housing near major employers, outdoor activities, entertainment, and retail, close to the action – far from the crowds."
KTGY partnered with SummerHill Homes, CBG, Inc. (Civil Engineer), The Guzzardo Partnership (Landscape Architects), Harris & Sloan (Structural Engineer), and GMEP Engineers (Mechanical, Electrical and Plumbing).
About KTGY
Founded in 1991 and celebrating 30 years of delivering award-winning communities, KTGY is a full-service architecture, branding, interiors, and planning firm specializing in residential, retail, hospitality, and mixed-use environments. Our firm and our work are guided by a continuous focus on innovation, creativity, collaboration, and a deep responsibility we feel towards enhancing communities and neighborhoods. Our architects, designers, and planners combine big picture opportunities, leading-edge sustainable practices, and impeccable design standards to create memorable destinations of enduring value. Visit [https://www.ktgy.com.%0d]www.ktgy.com.