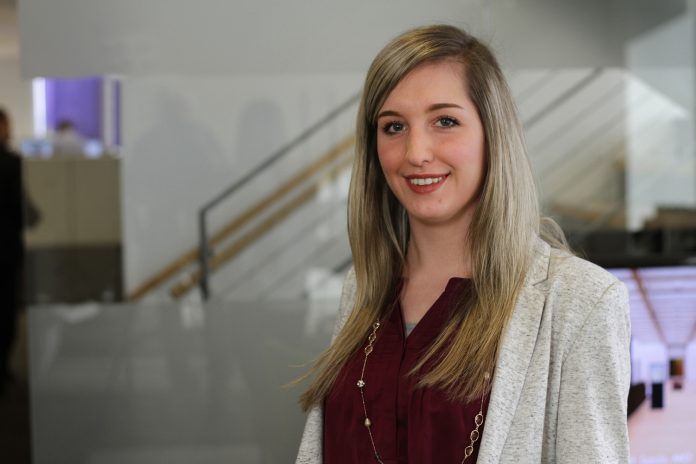 Juliette Peyroux Recognized for AEC Industry Leadership in Seismic Safety
 SEATTLE, WA — Magnusson Klemencic Associates (MKA) is pleased to announce Juliette Peyroux, PE, SE, has been named one of Building Design + Construction (BD+C) magazine's 40 Under 40 honorees for 2021.  A Senior Associate at MKA, Juliette, 32, focuses on promoting structural solutions for seismically safe and resilient airport terminals, concourses, and inspection stations in areas known for high seismic activity, such as San Diego, San Francisco, and Seattle.
Juliette acquired the advanced training necessary to become a WAsafe Program Certified Instructor and State Coordinator—an achievement that allows her to teach building safety evaluation classes to her co-workers at MKA, her industry colleagues, and Seattle-area university students who represent the next generation of engineering professionals.  She leads MKA's in-house Earthquake Technical Specialist Team in its efforts to research the latest developments in earthquake engineering, develop training and tools to improve the design process, and facilitate office-wide dissemination of the latest information and trends surrounding earthquake engineering.  Juliette has also co-written in-house seismic hazard and ground motion guides that are essential reference tools for her structural engineering colleagues. 
"I rarely have an opportunity to work alongside someone with the innate talent, drive, and intellect—as well as a singular curiosity about the field of earthquake engineering—expressed by Juliette," said MKA Senior Principal and Director of Earthquake Engineering John Hooper, PE, SE.  "In less than 10 years at MKA, she has emerged as our firm's go-to resource for the latest information and trends related to engineering and designing seismically safe aviation facilities.  With earthquake safety being top-of-mind for many Americans, Juliette's engineering experience and enhanced knowledge of seismicity could not come at a more critical time.  Simply put, Juliette is MKA's 'Seismic Superstar.'"
Juliette earned a Bachelor of Science degree in Civil and Environmental Engineering from the University of Washington and a Master of Science degree in Engineering from the University of California, Berkeley.  She serves on the Structural Engineers Association of Washington Earthquake Engineering and Disaster Preparedness & Response Committees. 
BD+C magazine editors selected 40 Architecture, Engineering, and Construction (AEC) professionals from around the world to comprise this year's list of honorees.  Successful and well-rounded individuals under the age of 40 are chosen based on criteria such as leadership, community outreach, sustained career progress, personal integrity, inventiveness, academic training, and other qualities and characteristics.
"I am deeply honored to be part of this year's class of 40 under 40," said Juliette. "Since major earthquakes do not happen frequently, it is easy to forget about the impact a large earthquake can have on an unprepared community.  I am passionate about advancing the earthquake engineering field with respect to building designs and preparing Washington to respond quickly and effectively in the case of 'The Big One.'  This recognition motivates me to continue to challenge myself and the AEC industry to do better when it comes to earthquake design and preparedness."