A large-diameter microtunnel machine, which installed a 72-inch-diameter steel casing pipe a total distance of 3,156 linear feet, completed its final penetration into the receiving pit at Cotanchobee Fort Brooke Park, beside Amalie Arena, on April 21. The microtunnel was installed 65-feet deep under the Ybor Turning Basin, Beneficial Drive Bridge, and Garrison Channel, a Tampa Bay channel located between Harbour Island and the Channelside District. The microtunnel is part of a four-year design-build project that is replacing a 72-year-old pipeline system with a new 54-inch and 48-inch force main.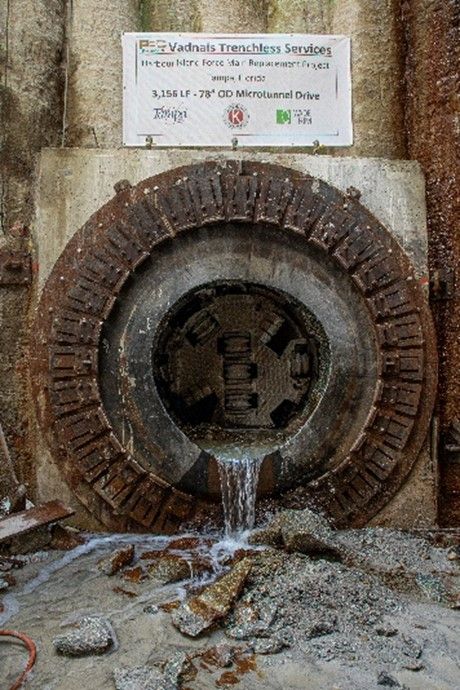 The project is being led by Kimmins Contracting Corp. The tunneling machine used to carve out the new tunnel is a major part of the massive construction project that required seven months of exacting operation to complete. One end of the tunnel connects to a 25-foot-diameter receiving vertical shaft at Cotanchobee Fort Brooke Park, and the other connects to a 40-foot-diameter vertical shaft on King Road. This microtunnel was completed by Vadnais Trenchless Services Inc.
Kimmins began the design phase of the project in July 2019 and started construction in September 2022 with a team that has included up to 50 workers. The final phase of the project will include a transition to the main pipeline system that ties in the just-completed tunnel at the park to part of the old pipeline system located below Franklin Street and Water Street. This phase is scheduled to be completed by fall 2023.
The completion will mark a major replacement of the 1950s-era force main sewer system between the Krause Pump Station, by the Tampa Convention Center, and the Howard F. Curren Advanced Wastewater Treatment Plant, at Port Tampa Bay. The new pipelines will provide a more modern, cost-effective, and reliable wastewater system projected to serve the city of Tampa's wastewater needs for decades to come.