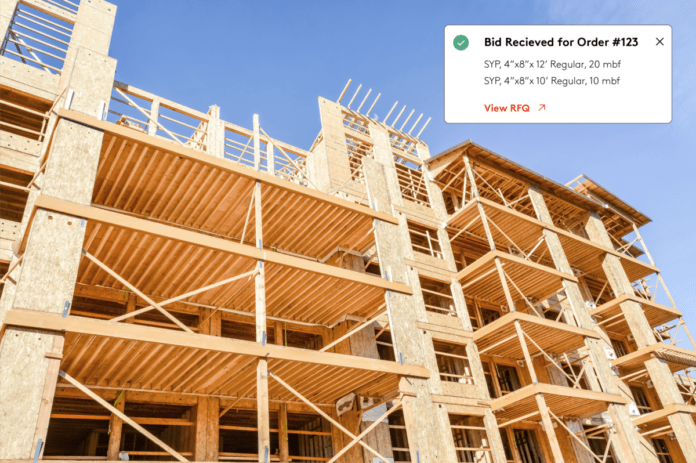 NEW YORK – Mickey, a B2B technology company, announces the launch of its Mickey | Contractor Direct division, which will be focused on assisting contractors with building project order fulfillment – from product procurement to shipping updates and online payment functionality. This new division will further expand Mickey's construction and building material reach by helping more contractors source the supplies they need in one platform – all powered by the company's proprietary technology. 
Mickey | Contractor Direct will become the ultimate source for construction firms looking to source everything for their building project – from lumber and framing to doors and windows and beyond. Contractors and builders will be able to track their quotes and contracts, and buyers will get a real-time view into the status of their orders, shipments, and invoices – all through a portal powered by 'Mickey OS,' the company's proprietary operating system that also powers leading lumber marketplace, MaterialsXchange.
"This is a natural extension of the business Mickey has built – from lumber and LBM to now providing full-scale, project ordering capabilities," said Alex Rabens, CEO of Mickey. "We have been helping buyers source lumber and other wood materials since day one. Providing a resource for contractors to source their entire project's needs – all in one place – will be a game changer for the industry."
With the launch of Mickey | Contractor Direct, industry veteran Jeffrey Crouse will lead the new division as the Vice President of Trading.
Jeffrey Crouse has spent more than 20 years in domestic and international lumber wood trading, as well as panels, EWP, Trusses, and other multifamily building materials. Before joining Mickey, he served as a contractor direct lumber trader at IdaPac where he supplied wood products to customers nationwide.
"What Mickey has built for MaterialsXchange has certainly changed the way many builders source lumber and other LBM products. The MaterialsXchange platform is a testament to the ingenuity and innovativeness of this industry," said Jeffrey Crouse, Mickey's Vice President of Trading. "We want to take it one step further by helping with the entire RFQ process. With Mickey's new Contractor Direct division, we are building a tech-enabled portal where contractors can upload, manage, and view their material list and contracts as well as payments and live-tracking. Users can manage their projects' material list – from budgets and financing to fulfillment and delivery."
Mickey's tech team built a powerful portal for construction firms to access details of their project's material list, including product fulfillment, shipment details, and order finances. The new division is also working on automating an RFQ process – from bid creation to acceptance and fulfillment. Through this portal, project managers will be able to see their entire materials list, manage payments and invoices, get real-time tracking of their orders, and more. The portal will be available 24/7 for contractors to view – and Mickey plans to roll out a mobile app later in the year.
Crouse continues, "We are striving to be leaders in the industry by providing complete transparency to our customers. The Mickey | Contractor Direct app will give users access to view all of the details of their order as well as track their finances and budgets for their material list. Customers will also gain greater insight into their order with regularly updated fulfillment statuses for the duration of their project."
To learn more about Mickey's new contractor's direct division, or to schedule a demo, visit: www.mickey.io/contractor-direct.
About Mickey:
Mickey is a technology company that builds e-commerce marketplaces and platforms for commodities and other wholesale products. Launched in 2019 – with an initial focus on forest products – the company built 'Mickey OS,' an operating system that can be integrated into a supplier's website to handle all aspects of a commodity e-commerce transaction (including order and payment processing, inventory management, and logistics). In 2021, Mickey launched Mickey Energy, a natural gas trading division, and in 2022, the company merged with MaterialsXchange, a B2B e-commerce and digital marketplace for lumber building materials. Since its founding, Mickey has raised more than $10M. Learn more at http://www.Mickey.io.