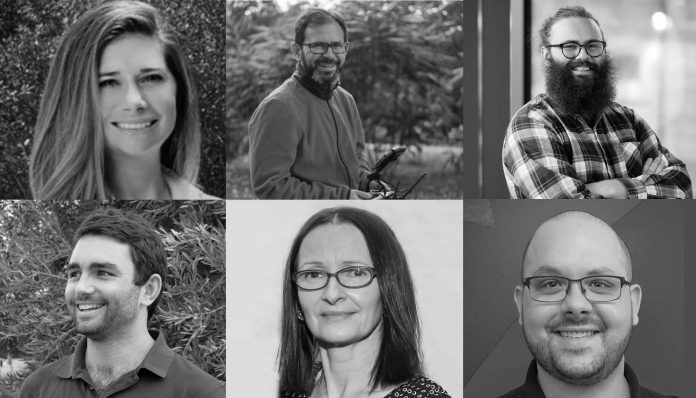 2022 EDVY Judges:
All submitted Engineering Drone Video of the Year Contest videos will be viewed and judged by a prestigious panel of judges to select the top 10 to be voted on publicly. Voting is May 18-27th. The winner will be announced in the July issue of Civil + Structural Engineer Magazine.
Ms. Kelly Brezovar, PWS has a multi-disciplinary background in environmental services, including managing and leading projects for federal and state permitting, wetland delineations, threatened and endangered species surveys, ecological modeling, submerged aquatic vegetation (SAV) surveys, oyster surveys, nesting surveys, and environmental inspections throughout the southwest. Ms. Brezovar brings a wealth of experience from oil and gas, dredging, public infrastructure, private development, beneficial use, and mitigation projects. Ms. Brezovar has over 10 years of experience in environmental consulting as a professional wetland scientist, USFWS permitted wildlife biologist, and FAA certified drone pilot.
SPH Engineering is a multiproduct drone software company and UAV integration services provider. Founded in 2013 in Latvia (EU) as a UAV mission planning and flight control start-up, the company has evolved from a developer of a single flagman product UgCS to a market leader of multiple drone solutions. Today the company has created a rich global customer and reseller network in 150+ countries while over 45 percent of partners are located in North America.  Alexey Dobrobolsky is Chief Technical Officer, Member of The Board and Co-Founder at SPH Engineering. He has introduced a number of solutions recognized by the global market like the software to manage drone shows and  drone-based industrial product lines. As of today he is responsible for strategy management and development. He likes to work a lot in a field to test SPH solutions in real life scenarios.
Luke Carothers – Civil + Structural Engineer
Editor at Civil+Structural Engineer Media–Luke Carothers has been writing about the AEC industry for the past three years, and he has been involved in a number of drone-related competitions by way of judging panels.  Through his writing, research, and involvement in drone competitions, Luke has developed a passion for unmanned systems and a unique perspective on the role they play in the AEC industry.
Rob founded GUS in 2012 and has since been responsible for the operation of drones on some of the largest construction projects in the world, including Bechtel's Wheatstone LNG project in Australia and Chevron's Tengiz Future Growth Project in Kazakhstan. Specialising in complex operations, this has led various "country-firsts" in places such as Timor-Leste and Papua New Guinea.
Coming from a technical geosciences background, Rob is proficient in developing new and novel applications for technologies like drones, melding the application-specific deliverables required with the technical capabilities of the technologies, to create measurable and tangible benefits. With an ability to strategically map a clear path to cost-benefit from the project outset, Rob works with all levels of project teams to implement effective drone programs.
Helen Pukszta is president and co-founder of Drone Arrival, a company that offers complete UAS solutions and integrated drone-based systems for commercial, industrial, professional, research, and government applications. With more than 20 years helping businesses innovate through technology, she has extensive leadership, advisory, and research experience, particularly as it relates to incorporating technology considerations into business strategies and plans and their implementation. Helen leads Drone Arrival's strategic vision, services, and operations, with the goal of enabling private and public sector organizations to apply drone technologies as the foundation for a new breed of novel solutions. She is passionate about creating breakthrough results through innovation and using drones and unmanned technology to help people and organizations achieve more.
Since founding the company in 2014, Chris has worked in nearly every role imaginable. Currently, he spends the majority of his time cultivating new and existing partner relationships, while also serving as the company's COO and CIO, helping manage operations and technology for the business.
---
Enter for a chance to see yourself featured on the cover of Civil + Structural Engineer Magazine as well as various UgCS software! More info

here

.