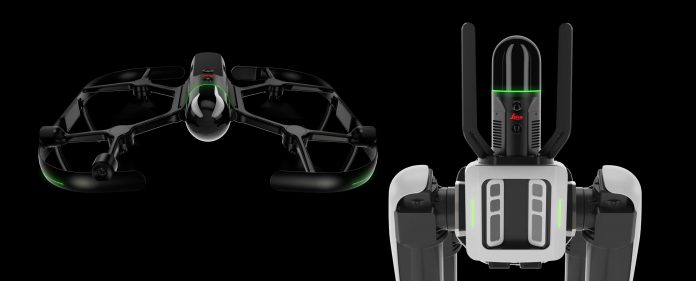 Autonomous BLK ARC and BLK2FLY Products Recognized for Robotics and Industrial Design
Heerbrugg, Switzerland – Leica Geosystems, part of Hexagon, announced its autonomous reality capture products, the BLK ARC and the BLK2FLY have earned MUSE Design Awards. The MUSE Design Awards were created to honor design professionals for their excellence. Based on an evaluation of over 6,000 entries from all over the globe, The Leica BLK ARC was recognized with a platinum award in the Robotics category and the Leica BLK2FLY won a platinum award in the category of Imaging and Design.
The Leica BLK ARC is an autonomous laser scanning module for robotics applications. It provides a safe and autonomous way to capture, in 3D, the images and data of areas that are difficult or dangerous for humans to reach. The Leica BLK2FLY is the world's first fully integrated autonomous LiDAR Unmanned Aerial Vehicle (UAV), and it scans structures and environments, such as building exteriors, to capture 3D point clouds of hard-to-reach or inaccessible areas like rooftops and facades.
"We're honored that the BLK ARC and the BLK2FLY were recognized for their advancements in autonomous technology by the MUSE Design Awards committee," said Pascal Strupler, director, Autonomous Reality Capture, Hexagon Geosystems. "We are committed to continuing to deliver products that speak to the growing demand for high-speed autonomous reality capture across a variety of industries and applications including architecture, engineering, and construction as well as manufacturing, hazardous environments such as mines, and more."
The MUSE Awards are made up of a series of competitions, which are open for participation to the world at large. These awards are hosted by the International Awards Associate (IAA), who aims to promote excellence in various creative and design industries by providing professionals a platform to compete against their peers.
"The team here at IAA is taken aback by the works we had received for the 2022 MUSE Awards. The level of refinement and the depth of completion truly represent the best of the creative and design industries," Thomas Brandt noted, spokesperson of IAA. He added, "IAA commends all our entrants for their dedication to their crafts, and may their unceasing passions further the limits of creativity and design."
By setting up a jury composed of industry professionals, IAA is able to uphold impartiality and assessment criteria based on industry standards. The jury's sole mission is to seek out companies and individuals whose excellence and talents are capable of serving as new benchmarks in their respective industries.
Grand Jury Panel
After screening in applicants from 18 countries, the competition settled on 37 jurors. These esteemed professionals are known quantities, and are affiliated with leading companies from the creative and design industries, such as Creative Director of Kre8ive Partners Mark Turner, Owner and Founder of UArchitects Misak Terzibasiyan, 3D Senior Global Packaging Designer at Tom Ford Beauty Jiaru Lin, Founder of CHAMPARTE Catherine Yu, Managing Director / Co-Founder of LR Seoul Joon Kwon, Associate Creative Director at MullenLowe Renato Barreto, Art Director at VML Y&R São Paulo Felipe Paganoti, Creative Director of BEAMY Ronn Lee, Creative Art Director at Mother New York Kushal Birari, Chairman of Asia MarTech Society Ken Ip, and etc.
Each entry is evaluated with standards relevant to their respective industries. To further the guarantee of impartiality, the blind judging method is employed. This allows for entries to be evaluated by multiple judges without being directly compared to each other, lending credence to the winning works' excellence.