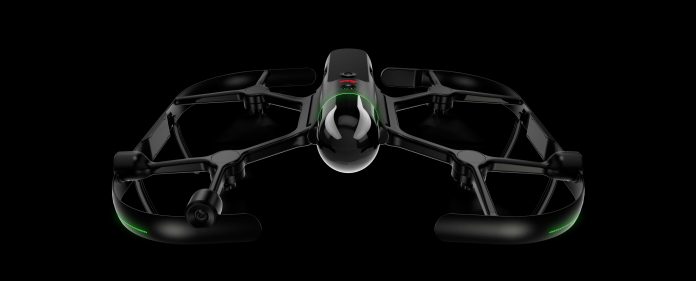 World's First Fully Integrated Autonomous Flying Laser Scanning Sensor Recognized in Robotics & Hardware Category
Heerbrugg, Switzerland —  Leica Geosystems, part of Hexagon, industry leader in measurement technology, announced its BLK2FLY product was selected as a finalist for the 24th annual SXSW Innovation Awards, in the Robotics and Hardware category The event is taking place Monday, March 14 at 6:00 pm CT (5:15 pm pre-event networking mixer) at the Austin Convention Center (Ballroom D) during the South by Southwest (SXSW) Conference and Festivals (March 11-20, 2022). The SXSW Innovation Awards recognize and celebrate the most exciting tech developments in the connected world.
The BLK2FLY is the world's first fully integrated, autonomous flying laser scanning sensor. With a few simple taps on a tablet, users can quickly and easily scan structures and environments accurately and entirely from the air. The airborne scanning provides value across multiple industries in need of accurate data of inaccessible or hard-to-reach areas (e.g., façade projections, rooftops), ensuring complete capture of a structure's exterior features and dimensions.
In advance of the Awards Ceremony, finalists will have the opportunity to exhibit their work at the Innovation Awards Finalist Showcase on Saturday, March 12, 12 pm-6 pm CT, at the JW Marriott Downtown Austin (Griffin Hall). The Finalist Showcase offers SXSW Interactive, Music, Film, and Platinum badge holders a first look at the most exciting tech developments, including achievements in AI and machine learning, health technology, robotics and hardware, wearable tech, and virtual and augmented reality, plus a chance to place their votes for the People's Choice Award. Registered media and official Finalist Judges will have exclusive access to the Showcase and finalist demos that morning, 11 am-12 pm CT.
Of hundreds of applications submitted, the BLK2FLY from Leica Geosystems, part of Hexagon, was one of 65 finalists selected across 13 categories by a panel of judges composed of industry peers and experts. Each entry was graded on four criteria: creativity, form, function and overall experience. The Finalist Showcase provides an in-person experience for the judges to complete their second round of voting to determine the winner of all 13 categories. Categories include: AI & Machine Learning, Culture & Social Impact, Health, Med, & BioTech, Innovation in Connecting People, Music & Audio Innovation, New Economy, Robotics & Hardware, Smart Cities, Transportation, & Delivery, Speculative Design, Student Innovation, Visual Media Experience, Wearable Tech, and VR, AR & MR.
The winners in each of the 13 categories, plus additional honors will be awarded at the 24th annual SXSW Innovation Awards on Monday, March 14, 2022.
"We're proud to break new ground in autonomous reality capture with the BLK2FLY. Being named a finalist in the highly competitive SXSW Innovation Awards is an honor that underscores our commitment to driving innovation and disrupting the industry," said Matthias Wieser, vice president, Industrial & UI Design, Hexagon Geosystems. "We're humbled by the recognition for the BLK2FLY and look forward to showing its capabilities during the next phase of judging at the upcoming SXSW event."
The BLK2FLY introduces the next generation of flight safety with advanced autonomous obstacle avoidance. Sensor fusion of LiDAR, radar, cameras, and GNSS ensures optimal and safe flight paths. Users can seamlessly combine data from the BLK2FLY with interior scans of buildings and structures captured with the Leica BLK2GO, Hexagon's handheld 3D scanner. The resulting colorized 3D point clouds are instrumental to building information modelling (BIM) processes, including documenting site conditions.
"SXSW is thrilled to honor this year's most innovative projects and give each finalist the opportunity to showcase their inventions to all SXSW attendees through interactive demos at the Finalist Showcase," said Hugh Forrest, Chief Programming Officer.
For more information about the SXSW Innovation Awards and to view the complete list of 2022 finalists, visit www.sxsw.com/awards/innovation-awards/.