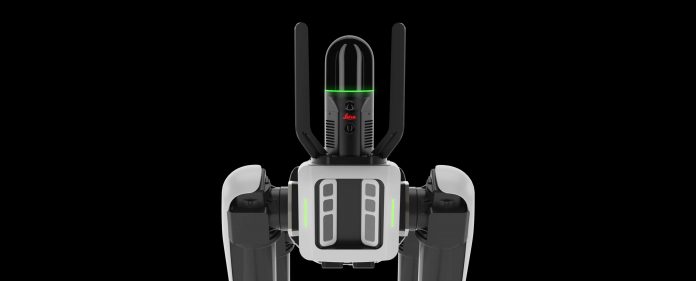 Leica BLK product line celebrates fifth appearance since 2017 for Digital Imaging and Photography
Heerbrugg, Switzerland – Leica Geosystems part of Hexagon, industry leader in measurement technology, announced it has been named a CES® 2022 Innovation Awards Honoree for the Leica BLK ARC. This year's CES Innovation Awards program received a record high number of over 1,800 submissions. The announcement was made ahead of CES 2022, the world's most influential technology event, happening Jan. 5-8 in Las Vegas, NV and digitally.
The Leica BLK ARC is an autonomous laser scanning module for robotics applications. It provides a safe and autonomous way to perform reality capture of images and 3D data of areas that are difficult or dangerous for humans to reach. Professionals in manufacturing plants, engineering, public safety, and media and entertainment attach the BLK ARC to a robotic carrier to capture data that is used to build 3D models, create digital twins, and recreate real-world situations. For example, some areas include automotive plants, bridges and infrastructure, man-made or natural disaster sites, and movie location sets. The product's speed, accuracy, flexibility, and modular design provides fully autonomous mobile LiDAR scanning and helps improve robotic navigation.
The BLK product line from Leica Geosystems, part of Hexagon, is a series of reality capture, laser scanning, and photogrammetry hardware and software. Leica's inclusion in the 2022 CES Innovation Awards marks the product line's fifth appearance since 2017 in the annual awards program.
For the 2022 awards, the Leica BLK ARC was named a CES Best of Innovation Award Nominee, in the category of Robotics. Previous BLK products that have been named by the CES Innovation Awards include the Leica BLK360 as a CES 2017 Innovation Award Nominee, the Leica BLK3D as a CES 2019 Innovation Award Nominee, the Leica BLK2GO as a CES 2020 Best of Innovation Winner, and the Leica BLK247 as a 2020 Innovation Award Nominee.
"We're excited to return to CES in 2022 and are humbled by the recognition for the BLK ARC's high scores across the evaluation criteria in design, innovation and engineering," said Burkhard Boeckem, CTO, Hexagon. "We look forward to showing the entire BLK series at the event and presenting our autonomous reality capture technologies."
The CES Innovation Awards program, owned and produced by the Consumer Technology Association (CTA)®, is an annual competition honoring outstanding design and engineering in 27 consumer technology product categories. Those with the highest rating receive the "Best of Innovation" distinction. An elite panel of industry expert judges, including members of the media, designers, engineers and more, reviewed submissions based on innovation, engineering and functionality, aesthetic and design.
The CES 2022 Innovation Awards honorees, including product descriptions and photos, can be found at CES.tech/innovation. More will be revealed in January. Many honorees will showcase their winning products in the Innovation Awards Showcase at CES 2022.
Demos of the BLK ARC will be available at CES in the Leica Geosystems Booth #15890.