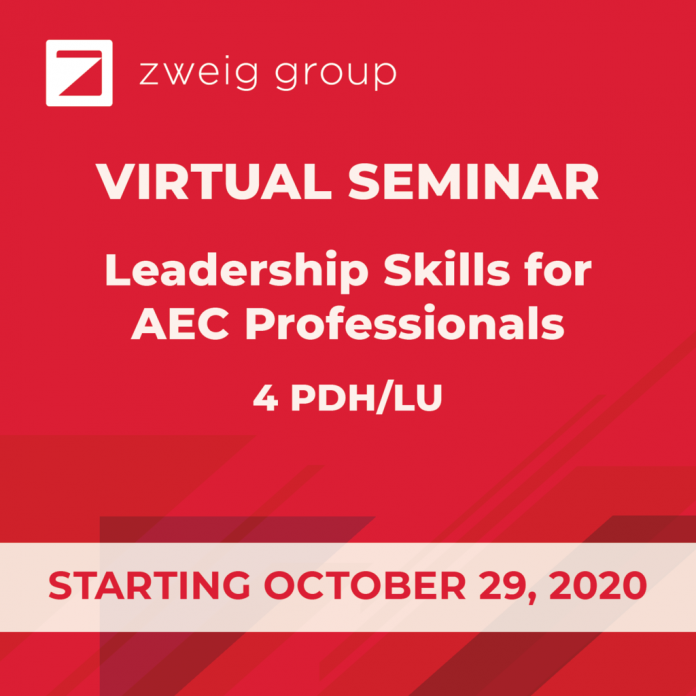 Starting October 29, 2020
Overview:
Practical leadership skills are vital to the health and success of every company in any industry. Effective leaders motivate their teams to achieve exceptional results, inspire others to be better than they thought possible, and create an environment where their team is focused and working towards a common vision. Zweig Group's team of management experts – who have extensive experience working with AEC firms providing solutions to the challenges facing AEC firms today – deliver practical solutions that technical professionals can put to work immediately to lead their firms to success.
This program provides AEC professionals with the skills to become more competent leaders and helps attendees develop and affirm the leadership skills, strategies, and techniques necessary to grow personally and professionally.
Summary Details:
Four-week program, with one-hour meetings each week of live content
Taking place on a Zoom meeting, participants are able to network with the instructors as well as the other participants
Four credit hours
Registration Includes:
Four live meetings with the Zweig Group instructors
The same highly-rated seminar content will be taught in the convenience of your own home/office
Polls, quizzes and interactive material that will keep participants engaged
Participants will also get the recorded sessions to look back on for years to come
A comprehensive seminar workbook
Schedule:
Module One: Thursday, October 29th, 2020 from 11:00 AM – 12:00 PM CT
Module Two: Thursday, November 5th, 2020 from 11:00 AM – 12:00 PM CT
Module Three: Thursday, November 12th, 2020 from 11:00 AM – 12:00 PM CT
Module Four: Thursday, November 19th, 2020 from 11:00 AM – 12:00 PM CT
Instructors:
Phil Keil, Director, Strategic Services, Zweig Group
Discussion Topics Include:

Leadership Theory
Leadership Styles & Listening
Public Speaking & Communication
Role of Routine
Decision Making
Recruiting and Workforce Personalities
Mentoring
Change Management
What attendees will learn from this program:
Essential skills for leading high-performing organizations
Enhanced listening and speaking skills
How to lead in a time of crisis
The importance of mentorship and mentoring programs
Strategies for leading effecting change in an organization
How to effectively recruit and retain top talent
The importance of forming daily routines
How to formulate effective decision-making strategies
Who Should Attend?
This course is designed for leaders at all levels with an emphasis on aspiring, emerging, and mid-level leaders. It's intended to prepare professionals for their increasing roles and responsibilities as team leaders and client managers.