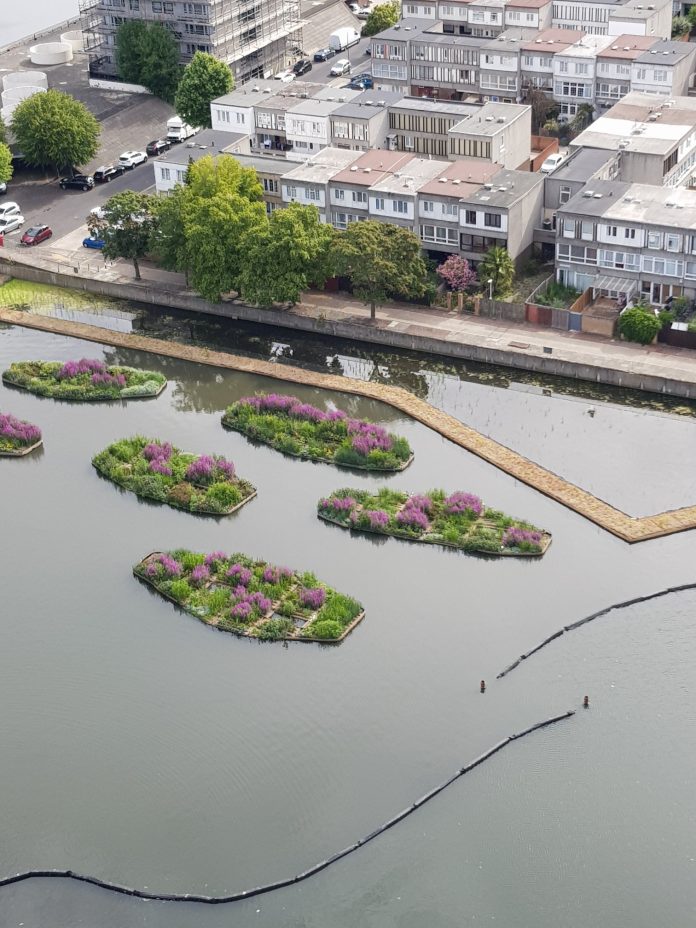 Water is a compound vital for all known forms of life. It is the main constituent of the Earth's hydrosphere and it plays an intrinsic role in the life cycle of ecosystems.
As there is mounted pressure across the UK, and the globe, to safeguard our planet, increase biodiversity and reduce the intensity of carbon emissions by 2030, understanding the importance of protecting waterways is key for environmental change.
Leading wet civil engineering firm, Land & Water, uses its expertise to maintain and enhance water systems across the UK to improve their ecological status and restore the navigable body of the water for environmental purposes. 
At Southmere Lake in Thamesmead, on behalf of client Peabody, Land & Water Group collaborated with the different arms of its business to restore the waterway as part of wider regeneration plans to create 20,000 news homes and local job opportunities in the area as well as to improve the blue and green spaces. 
Land & Water, alongside its bioengineering arm of the Group, Terraqua Environmental Solutions (TES) carried out a range of environmental enhancement works including creating five floating islands, reed beds, and wetlands. An ornamental fountain was also installed, helping to aerate the water, improving aquatic conditions.
This not only helps to provide much needed habitat in the area but it also adds value in terms of protecting threatened and endangered species, improves water quality and erosion control, and protects from extreme weather and climate damage. For example, wetlands are great carbon sinks and can remove up to 60 percent of metals in water showing the importance of maintaining waterways to benefit life.
These structures also promise to help stabilise banks and filter out bacteria, fungi and algae, futureproofing biodiversity and, as part of Peabody's 30-year venture, Land & Water fulfilled the requirements of its works to encourage wildlife and improve the ecological status of Southmere Lake.  
TES also grew native wildflowers from seed to provide interest and add to the surrounding habitat. Creating this connection with nature does not only environmentally enhance waterways and aquatic life but it also plays a huge role in maintaining the mental wellbeing of local communities with research suggesting it boosts endorphin levels as well as reduces stress and improves physical wellbeing.
Benefitting the local community, and honing in on the wet civil engineering firm's social values, was something of high importance within this project. As part of this, Land & Water Services dredged material which was used to create further reed bed areas, minimising waste, whilst improving the navigation within the Southmere Lake for boating and sailing. Fishing platforms were also established to provide safe access and positions from which visitors can enjoy the lake's facilities.
Waterways are not only vital towards bettering the environment, they are multi-functional assets that provide economic and social benefits too. For example, they cater for a range of recreational activity that enriches communities, whether that's fishing, boating or swimming, and provides a range of health improvements as well as increasing the local economy.
During every project it undertakes, Land & Water aims to identify the potential and enhance the waterways and surrounding area in which it works. 
The project's Site Manager, Andy Mickelburgh, says: "There was a huge sense of pride working on this project. Contributing to the rejuvenation of the area and the enjoyment it will provide for years to come is something we're very proud of. 
"Every member of our Land & Water Services and TES teams helped to make this project a success. Using our impressive fleet of plant and vast expertise, we managed to exceed expectations during a period of adversity and all in a timely manner."
In acknowledgement of the project and its services, Land & Water Group received an honourable 'Performance beyond Compliance' recognition on behalf of the Considerate Constructors Scheme for its exceptional work overseeing the lake restoration. The team met specific criteria which included 'Respect the Community', 'Protect the Environment', 'Secure everyone's Safety', and 'Protect their Workforce', highlighting even further the firm's commitment towards enhancing and conserving the areas in which it works.
Andy continues: "Having been recognised by an accredited body is an accomplishment which the Land & Water Group values immensely. It's a true reflection of the team's unwavering hard work and determination over what had been, for everyone, a challenging few months. 
"As always, our projects always look to add value to the local area in which we work in and Southmere was no exception."
Dr Phil Askew, Peabody's Director of Landscape and Placemaking, said: "Southmere Lake is without doubt one of the jewels in Thamesmead's crown and the great work Land & Water has done there is already helping to transform perceptions about Thamesmead.
"The viewing platforms, reed beds, floating islands, and fountain form such an important part of the changes and improvements we're making in Thamesmead. 
"Land & Water's expertise has delivered features that are not only attractive for residents and visitors but will also enable the lake's wildlife to thrive."
As a leader within the wet civil engineering industry, Land & Water understands first hand the importance of safeguarding waterways to protect against climate change. From reducing pollution by aerating the water to increasing aquatic life Land & Water carries out a range of environmental works to maintain and improve the UK's water networks.
About Land & Water
Land & Water is an award-winning inland waterway and coastal civil and environmental engineering company based in the UK. Throughout their 40-year history, their name has become synonymous with finding creative and effective solutions to complex challenges in the specialist environment where land and water meet. Often working in complex or sensitive habitats, their work is always completed with sympathy to the local surroundings, people and the environment.