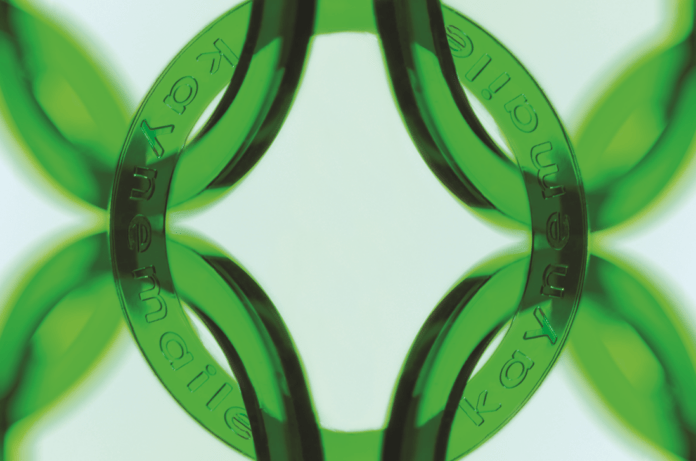 Kaynemaile, a leading global designer and manufacturer of architectural mesh for commercial, residential, and public buildings, today announces a major shift from fossil-based raw materials to biomass content.
Kaynemaile's new RE8 Architectural Mesh will deliver an ISCC PLUS certified sustainable share of up to 88% of its architectural product. Moving Kaynemaile's production away from traditional fossil-based materials to a bio-circular attributed polycarbonate will offer a reduction of the carbon footprint of the polymer material by up to 80%, cradle-to-gate, including biogenic uptake.
AIA Debut
RE8 Architectural Mesh is debuting at the American Institute of Architects (AIA) conference in San Francisco this week. Kaynemaile founder Kayne Horsham says, "We are excited to now offer architects, designers and constructors an architectural mesh product made from a single sustainable circular material that is not only beautiful and functional, but also has the best possible environmental credentials in its sector."
The significant advance in sustainable performance is attributed to the Makrolon® RE product from Covestro, a leading global producer of advanced polymers. Makrolon® has been a consistent material solution for Kaynemaile for 20 years. Scientific advances by Covestro and its suppliers have enabled the release of a high-performance polycarbonate consisting principally of bio waste and residues which is 100% chemically identical to its incumbent fossil equivalent. RE8 retains the same performance concerning physical, mechanical, thermal, optical, fire retardant, and weathering properties as traditional polycarbonates.
Working with this bio-circular attributed polycarbonate material means Kaynemaile's RE8 product lines now offer architectural specifiers a compelling reduction in CO2 emissions for this class of product. The net result is a circular economy building material with a true drop-in solution with no process interruption or performance change.
Circular Economy Milestone
"RE8 is a major milestone in Kaynemaile's 20-year commitment to circular economy practices," says Kayne Horsham. "From the start we have sought a high-performance sustainable feed-stock material solution that exceeds building compliance standards yet has a light environmental footprint. Covestro' s bio-circular attributed polycarbonate portfolio is now able to deliver on this ambition."
"Makrolon® RE polycarbonate from Covestro offers designers a sustainable material solution, while still maintaining the key benefits of traditional polycarbonate," says Joel Matsco, Senior Marketing Manager, Covestro. "The polycarbonate material enables an unencumbered design experience and provides a second life to upstream waste and residues. We look forward to seeing RE8 from Kaynemaile on buildings and in spaces around the world."
With Kaynemaile's origins in the Armory department of The Lord of the Rings film trilogy some 20 years ago, the company has evolved into an international business built on its innovative nil-waste liquid-state manufacturing process coupled with a compelling design aesthetic and a team focused on providing bespoke functional design solutions at scale. Kaynemaile's manufacturing facility is ISCC Plus certified and the introduction of its RE8 bio-circular material helps position architects, planners, and builders to meet regulated carbon reduction targets.
"RE8 is the most significant initiative by the company since its founding," says Kayne Horsham. "We are proud to be at the forefront of this future proofing circular economy technology."