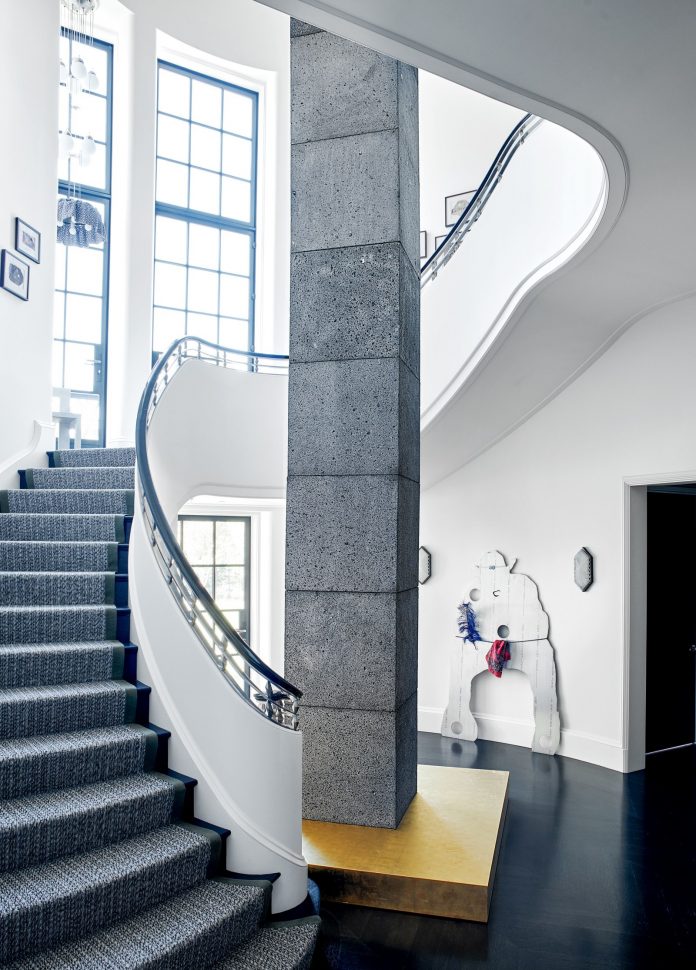 In the world of architectural design – whether it's renovating a 19th century brownstone residence or adding state-of-the-art features to a federal office building – there is a magic that happens when art and elegance combine with craftsmanship and function. Custom designs and decorative features, such as ornate railings, large front door showpieces, or intricate ornamental scrolls, can add both beauty and function to a dwelling or space. With this in mind, blending old-world workmanship and new world technology in architectural and ornamental metals has been the focus of the Greater Boston-based Modern Metal Solutions for more than a decade.
High quality metal projects: Over the years, Modern Metal Solutions has been challenged with overseeing multifaceted, diverse, yet precisely detailed metalwork projects from beginning to end – starting with concept, design, and drawing to fabrication, finishing, and installation. Many of these building product manufacturing (BPM) jobs require a mix of high tech, innovative tools with hands-on, high-quality craftsmanship to expertly manage the complex design, production, and installation process.  Some of their completed projects include decorative steel staircases in historic residences, new historically accurate entry doors of a courthouse, and artistic design elements in an award-winning custom home boasting a world-class art collection. 
Critical Behind the Scenes Process
When admiring these types of architectural feats, what you don't see is the hundreds, if not thousands, of hours of precise design work behind the project – from initial sketches and drawings, to renderings, sophisticated modeling and final plans, to the fabrication and installation. 
Design detail: The steps and process involved in executing a design project start with understanding a client's needs and specific design qualities and ideas. The designs begin to come to life as the team explores concepts, tests options, and moves onto drawings and models to help visualize the size, shape, and relationship of spaces to each other. Final plans need to define and develop all the important aspects of the project and outline specifications and renderings to show all details, dimensions, and how it fits together. 
Work in progress:  All designs must work with a designer's specific aesthetic, an architect's precise plans, and an owner's budget and vision – and there are inherently changes and adjustments to be made along the way. More than half the battle of executing a successful design and construction project is having all stakeholders and partners on the same page.  
The power behind amazing designs:  Fueling the complex, dynamic process behind successful design work are both talented people and cutting-edge technology. From its very beginning, the Modern Metal Solutions team has depended on just one mechanical design software as the heartbeat of its designs and success – Autodesk Inventor, supplied and supported by M2 Technologies, a Microdesk partner. M2 Technologies helps manufacturing companies, large and small, design better products and improve productivity and efficiency with industry leading engineering, design, process automation, and data management technologies.
A productive partnership: With ongoing support, software updates, and training, M2 Technologies has fueled the expertise and workflows behind Modern Metal Solutions' award-winning, stunning metalwork projects. "We trust and depend on Inventor and M2 Technologies for all our design projects and appreciate their support over the years. It is still the only software we use," said Chris Aubrey, Founder of Modern Metal Solutions. 
M2 Technologies provides the essential tools for comprehensive computer aided drafting and designs, including supporting every aspect of a project's lifecycle from initial sketching to simulation, generative design, fast and flexible concept modeling, as well as workflow automation. 
"At M2 Technologies, we are thrilled to be a part of this decade-old partnership – working with Modern Metal Solutions from its humble beginnings to its industry-leading position," said Matthew Burke, Principal of M2 Technologies. "Chris and his team have created amazing works in metal fabrication, with impeccable designs – all with Inventor at the heart of it." 
Unique Design Challenges Meet Inventive Solutions
Over the years, Modern Metal Solutions, with its ongoing support from M2 Technologies, has tackled a myriad of unique metalwork project challenges using state-of-the-art technology, a talented team, and dedicated work.   
Tackling complex details: Modern Metal Solutions was commissioned to create intricate, decorative metal elements for the multi-million-dollar renovation of a 19th century brownstone in an historic area of Boston. These included a Juliet balcony, nine-foot-tall interior doors, and the centerpiece of the building – a highly ornate steel railing laced with bold scrollwork for the five-story staircase. Given only preliminary sketches from the architect and builder, the team at Modern Metal Solutions had to design, create, and install elaborate, detailed metal elements that combined the old world, classic period feel with a functional and modern renovation. 
Utilizing Inventor's precise simulation, visualization, and documentation features, the team was able to render accurate, dynamic 3D prototype and precision shop drawings. For the staircase alone, each of the 420 ornamental scrolls was uniquely drawn, and every curve, line, and section of the railing was modeled, drafted, and detailed. The complexity of the rails required additional drawings and plans to be developed for the underlying staircase structure. The software enabled the customized configurations of the designs, created automated efficiencies, and simplified the meticulous process. 
Incorporating customized designs into a special space: For an exciting project in 2019, Modern Metal Solutions was quite literally creating art to coordinate and connect with existing artwork. The company was hired to craft unique, Art Deco-style metalwork for a prominent art collector's 16,000-square-foot museum-like home, which houses a prominent collection of paintings and sculptures. They were originally brought in to create a highly detailed steel railing for the main staircase, with unique levels, sloping diamonds, and sharp points. This project also presented a significant design challenge as it had to wrap around one of the collection's prominent sculptures. Hundreds of hours were spent on the design of the railing, including the spiral ornaments, so that it perfectly matched the curve and pitch of the staircase. 
This is where the sophistication of the 3D CAD modeling came in. Draft technicians were able to visualize and simulate the design and how it would fit and perform at an assembly level.  Adjustments were made in advance to fine tune and ensure the pieces fit into the space.  
"Diving into the details of a complex project like this and finding solutions that bring a designer's vision to life is my favorite part of a job – I love what I do," said Aubrey.  He added, "It's the trust we have in the accuracy of the software that allows us to confidently take on such demanding projects. We can see how it all fits and lines up at the modeling stage; and it's all tested in advance, so there are fewer surprises during installation."
At the property, the Modern Metal Solutions team went on to create multiple other pieces, including exterior steel railings, an interior circular gallery rail, a main foyer light fixture, and the massive main entrance double doors and windows. All pieces were conceived and crafted to match the design of the railings as well as the overall feel of the home. While each piece clearly had its own specifications and features, the Inventor software facilitated the consistency of the design configuration and integrity. 
The incredible design and artistic vision of the home was recognized and honored as a featured project in the Architectural Digest AD100 issue, a showcase of the top names in interior decoration, architecture, and landscape design.
All remote customization and collaboration: The architectural, design, and construction industries were not immune to the challenges posed by the COVID-19 pandemic. Much of the industry slowed or stalled as supplies became scarce and in-person site visits decreased. Despite this, Modern Metal Solutions was able to keep projects moving – and in fact, one project was completed without anyone from the team ever stepping foot on the actual site. The team was commissioned to create new historically accurate entry doors based on original drawings of the Jack Brooks Federal Building in Beaumont, TX, built in 1934 and on the National Register of Historic Places. Using the Inventor 3D CAD software as the backbone of the new design, the team was able to draft, model and visualize the entire project completely from their offices. All design customizations and tweaks to the new doors – which needed to be built to precisely fit the existing opening and to seamlessly connect with the current ornate frame and details — were finessed and finalized in advance.
Inventor software also enabled collaboration with other teams inside and outside the organization – including architects, builders, and other stakeholders. Designs were shared, discussed, and modified across secure web links – bringing together the key decision makers on the project. "Despite never setting foot on the property, the project went smoothly, and we were quite satisfied with the end result," said Aubrey.
Behind the best architectural designs and successes is a blending of modern, high tech and old world, expertise that come together to create synergy, form, and function. For more information, please visit M2 Technologies and Modern Metal Solutions.