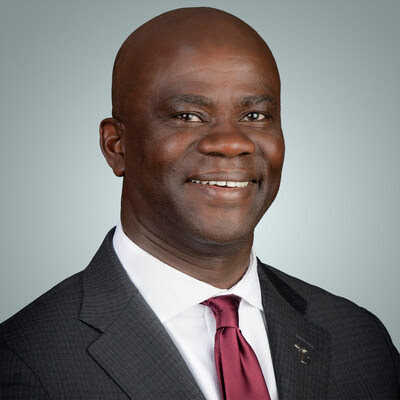 Infrastructure Engineering Inc. and Affiliates (IEI) is pleased to share that Mr. Paul Ajegba, PE, has joined IEI as a Senior Vice President to oversee planning of the firm's national, corporate growth strategy and lead operations and business development in our Detroit, Michigan office.
"Paul brings a level of leadership and industry experience that is an invaluable resource to our firm and our clients," offered Michael Sutton, PE, IEI's CEO. "His skilled management of the investments made to grow Michigan's infrastructure, and his ideation of the barrier-shattering Chief Officer of Culture, Equity, and Inclusion position at MDOT are great examples of the vision and action Paul will bring to IEI. We are honored that he has joined the IEI team and excited for the future of our firm under his leadership."
Paul's illustrious engineering career started in the private sector of the infrastructure industry and was followed by more than 32 years with the Michigan Department of Transportation (MDOT). He has successfully managed and delivered the design and construction of complex projects pertaining to highways, bridges, transit, aviation, and marine and port activities. In January 2019, Michigan's Governor, Gretchen Whitmer, appointed Paul as Director of MDOT, where he provided leadership, strategy, and direction of the Department's $5 billion transportation program.
"IEI's Detroit office opened less than two years ago. In that short time, the firm has demonstrated their capacity for solving engineering challenges and their commitment to supporting the growth of Michigan's vital infrastructure. IEI has been steadily growing their presence in Detroit and the surrounding communities by delivering infrastructure projects that align with the firm's values and support local vibrancy. I am confident with this team that in a couple of years, we will look back and see that much has been done. We aim to be one of the leading firms in Michigan." Paul is known for regularly sharing one of his favorite quotes – "The cynics may be the loudest voices – but I promise you, they will accomplish the least." (Barack Obama)
Both nationally, and locally, Paul is active in many professional organizations that demonstrate his dedication to the civil engineering profession and his commitment to creating impactful infrastructure. He has served as Chair of the American Association of State Highway and Transportation Officials (AASHTO) Council of Public Transportation, as well as the Civil and Environmental Engineering Friends Association with Michigan University. He is also a proud member of the Engineering Society of Detroit, National Academy of Construction, and The Conference of Minority Transportation Officials (COMTO), to name a few.
Paul's career trajectory has been recognized throughout the industry. In 2017 he received the Conference of Minority Transportation Official Public Agency Executive of the Year Award, and in 2010 he received the Ann Arbor Transportation Authority Leadership Award (AAATA). He also received the Woodward Avenue Action Association Board Leadership Award and MDOT Director's Award in the Professional Supervisory Category.
Paul is a Registered Professional Engineer in the state of Michigan and has received his Master of Science in Construction Engineering from the University of Michigan and his Bachelor of Science in Civil Engineering from Prairie View A&M University.