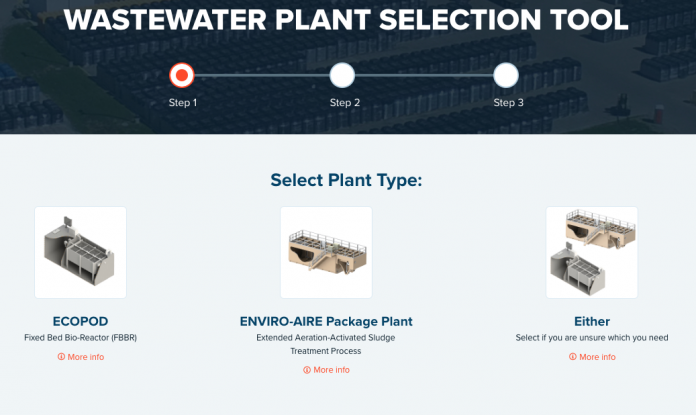 Old Saybrook, CT  – Infiltrator Water Technologies, a leading manufacturer of products for the decentralized water and wastewater industries, is pleased to announce the launch of a new web application to simplify the design process for decentralized wastewater treatment plants.
The Wastewater Plant Selection Tool translates user input of project parameters like flow rate, influent parameters, and effluent requirements. Then, the tool instantly generates preliminary design documents including system drawings of a solution to best match the project needs.
"This tool can greatly shorten the design phase for project engineers and designers of decentralized wastewater treatment plants," said Carl Thompson, Vice President of Sales and Delta Advanced. "Upon completing a short form on our website, the designer will instantly receive a preliminary set of drawings and supporting documents which show the Delta Treatment Systems' decentralized wastewater treatment plant that best matches the project requirements."
This new design tool is available for anyone to use on the Infiltrator website, www.infiltratorwater.com.
About Infiltrator Water Technologies
Infiltrator Water Technologies is a leading manufacturer of products for the water and wastewater industries. For over 35 years, the company has been manufacturing a variety of innovative and environmentally friendly alternatives to traditional pipe and stone leach field and concrete septic wastewater components. The company sells its products through wholesale distribution across the United States and Canada, for use on properties with on-site wastewater treatment systems. Infiltrator is a leader in the use of post-consumer and post-industrial recycled plastics in the manufacturing of its products. Infiltrator is a wholly owned subsidiary of Advanced Drainage Systems. To learn more about Infiltrator, please visit the company's website at www.infiltratorwater.com/about.