When operations need a new workspace or additional storage, finding the right building to rectify the situation can be a headache for business-owners. Whether it's temporary storage for securing valuables or a new facility altogether, many options are either time-consuming to acquire, purely short-term or extend beyond an operation's budget. A ClearSpan fabric structure offers an innovative solution to any industry, presenting businesses with a number of possibilities for its design and foundation.
While ClearSpan's helical anchor foundation is a popular choice amongst operations, it's hard to find a better solution for a lack of storage and production space than a shipping container foundation. A fabric structure that's paired with a shipping container foundation can provide businesses with a storage powerhouse, as well as a wide-open space and higher clearance for workers and vehicles. The fabric building employs unique manufacturing practices to allow for quick construction timelines and the shipping container foundation produces a more versatile, cost-effective structure for businesses.
HOW DOES A SHIPPING CONTAINER FOUNDATION WORK?
A shipping container foundation is one of the many foundation options offered by ClearSpan, but it stands out as one of the most versatile. With this base, a fabric building is installed on large storage containers to produce a container mounted structure.
This design pairs the many benefits of a fabric structure with the added amenities of shipping containers, generating a building that provides far more advantages than a traditional solution. Durable metal containers create a sturdy foundation, while also establishing a secure storage space that protects valuable equipment and tools.
There are numerous other types of foundations, which are more permanent and less adaptable, that can't offer the same benefits as a shipping container foundation. Some buildings are installed with a concrete foundation, slab foundation or concrete slab foundations, along with concrete piers or concrete footings. With containers, operations don't have to worry about pouring concrete or waiting for concrete to cure and can get their building erected faster.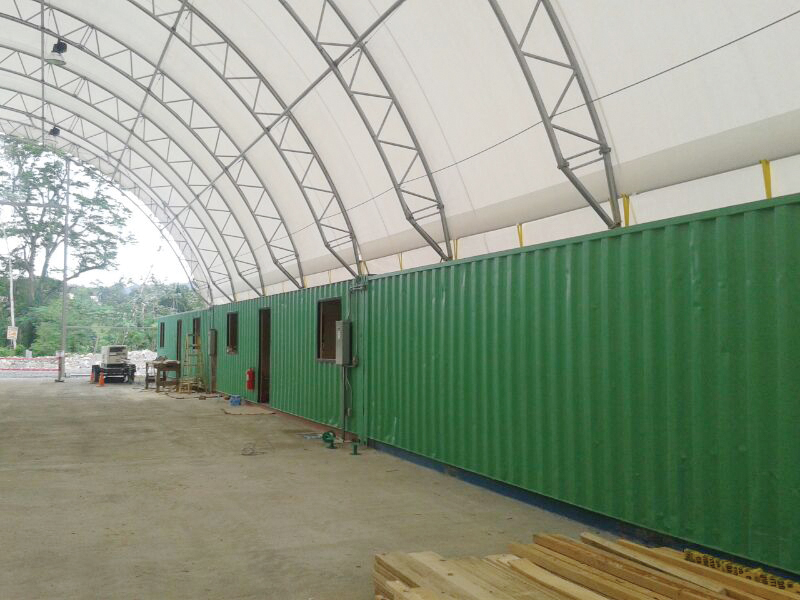 As an adaptable alternative, a shipping container foundation is designed to meet the needs of any business or individual. It is also a more environmentally friendly option, because it does little to disturb or harm the surrounding landscape, making this foundation a more attractive choice for businesses seeking sustainability.
A SUPERIOR WORK AND STORAGE SPACE
For work and storage purposes, available space should be one of the most important features to an operation. A shipping container foundation helps a fabric structure supply businesses with the most usable space possible.
Containers naturally add sidewall height and the structure's frame design doesn't require interior support posts, so businesses gain high clearances and a large, unobstructed space. Since the containers act as sidewalls, fewer materials are required to produce the fabric structure, so the foundation can cut some of the building's overall cost as well.
Additionally, individuals have the option to stack containers on top of each other, which can provide them with even more height and storage. High clearances allow even the tallest vehicles and equipment to fit comfortably, with ample room for work to continue safely.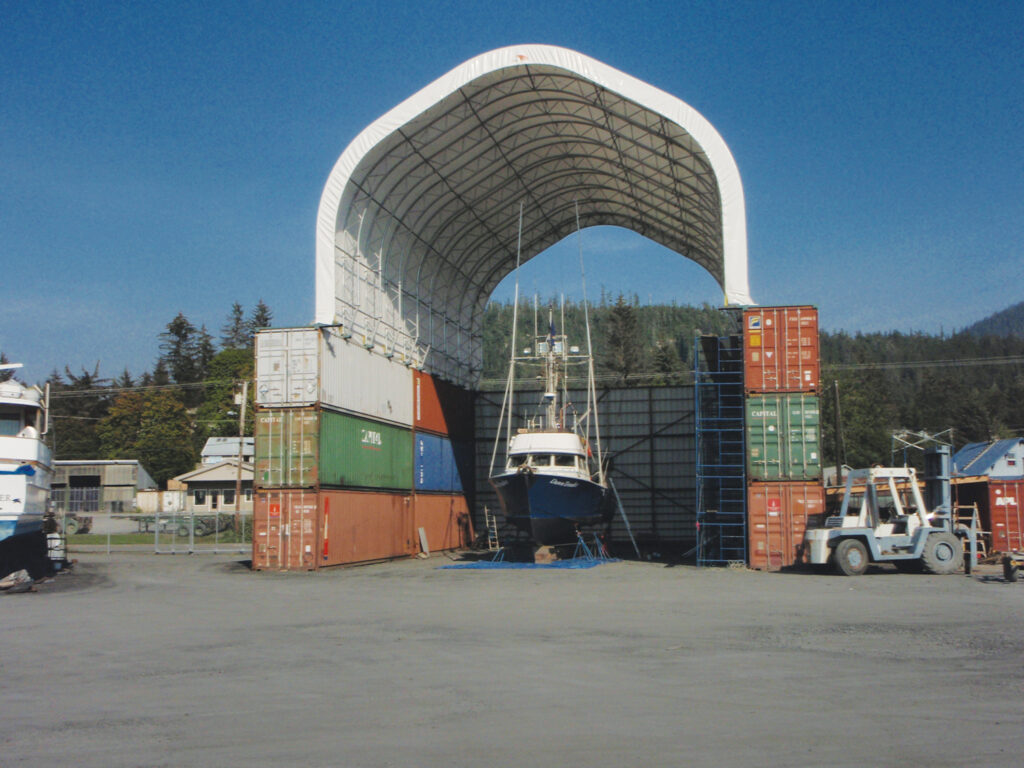 This can benefit businesses from any industry, but Jenkins Welding in southeast Alaska found the shipping container foundation particularly useful for their operation. The business specializes in aluminum fabrication and welding, with a primary focus on the repair and modification of commercial fishing boats. In need of a structure that could house vessels up to 58' high and 80' long, the business explored their options, and found ClearSpan to be the best choice.
Jenkins Welding decided on a 50' wide by 80' long Hercules Truss Arch Building with a shipping container foundation. The structure's sidewalls are stacked three containers high, which easily fits even their tallest ships, as well as the workers who repair them.
By installing their structure on a shipping container foundation, the business also maximizes their storage space for important welding equipment. These containers can be locked overnight to give the business an added security benefit and keep items protected from potential thieves.
This foundation can even give fabric structures a temporary classification, potentially reducing tax burden. Containers make a fabric building simpler to install or be relocated, giving businesses the ability to move their structure to other project sites.
A FABRIC STRUCTURE'S ADDITIONAL BENEFITS
Fabric structures already provide operations with a number of benefits that set them apart from other buildings, but a shipping container foundation only improves the design. By combining the advantages of both, businesses can get a storage solution that's resilient, comfortable and cost-effective.
A shipping container foundation helps add to the durability that ClearSpan's fabric structures are known for. The containers are built to be sturdy and reliable, while a corrosion-resistant frame helps the structures withstand caustic environments. High-quality materials and advanced manufacturing strategies let these buildings stand up to even the toughest conditions.
ClearSpan's fabric buildings support natural ventilation, helping carry fresh air throughout the interior to ensure a workspace never gets stuffy. Although HVAC and fans can be included, the structure helps create a more comfortable interior on its own, mitigating the need to run extra equipment and potentially inflate energy costs.
The fabric covers used are climate-sensitive, which allows the structure's interior to stay ten degrees cooler in the summer and ten degrees warmer in the winter, further contributing to the cost-savings and providing an improved interior climate. Stored items in the shipping container foundation are kept at more regulated temperatures and workers can function comfortably, in spite of severe weather.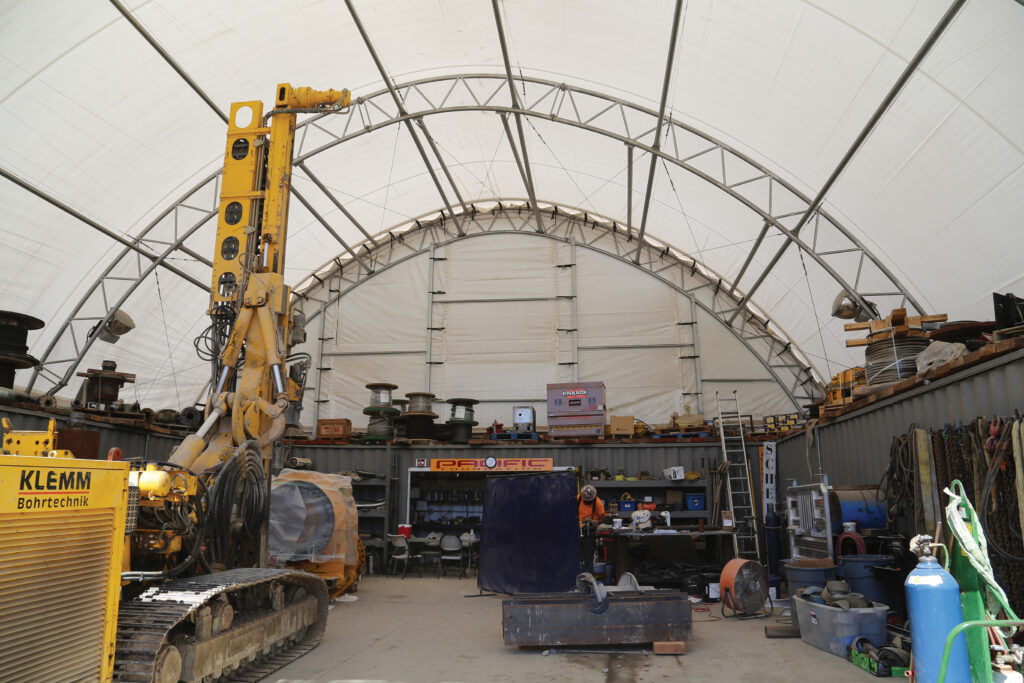 These covers are also naturally translucent, so they let ample sunlight filter into an operation's building. This creates a well-lit workspace that doesn't rely on artificial lighting, meaning businesses can save on utility costs throughout the day, while avoiding potential eye strain caused by artificial light fixtures.
No matter the industry or purpose, a shipping container foundation helps a fabric structure cater to almost any need an operation may have. By creating more usable space and providing abundant, secure storage, a container mounted fabric structure is an effective solution for businesses looking to improve their workspace.