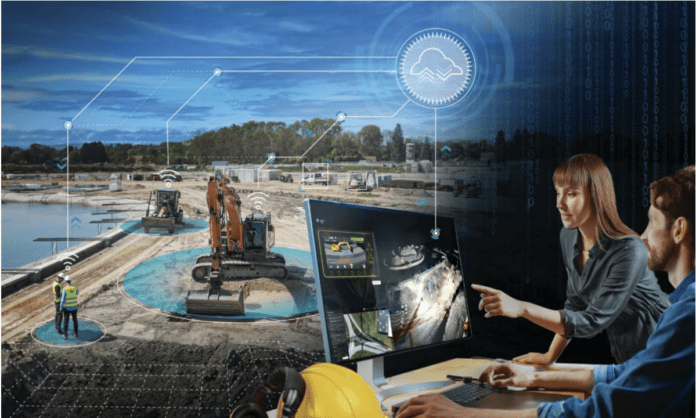 Hexagon's Geosystems division will present an extensive portfolio of machine control and construction solutions from March 14-18, 2023, at the largest construction show in North America — ConExpo in Last Vegas.
Hexagon's solutions enable customers to innovate, improve workflows, increase productivity and reduce costs across entire project lifecycles. Smart Digital Realities simplify and accelerate data utilisation to connect and integrate disparate parts of the construction ecosystem for smarter, more autonomous and sustainable operations. Apart from showcasing its current solutions, Hexagon will also launch new products and reveal partnerships that will transform the heavy construction industry.
"Hexagon is delighted to attend this pivotal event and showcase our proven solutions and latest innovations that empower the industry to reimagine construction," says Thomas Harring, President of Hexagon's Geosystems division. "Fully integrated job sites significantly improve the efficiency and profitability of construction businesses while attracting, keeping and freeing up key talent. We look forward to engaging with our partners, customers and peers from the industry."
Show Highlights:
Technology announcements and demos
Hexagon's flagship construction brands, including AGTEK, Leica Geosystems, BricSys, Avvir, OxBlue, Projectmates and IDS GeoRadar, will exhibit at the show to share how professionals can better work together across teams and time. Visit booth N12325 in North Hall at ConExpo to experience innovative technologies, seamless workflows, collaborative deployments and digital solutions in action.
Leica BLK2FLY – top 10 finalist of the Next Level Awards Program
Drop by and vote for the Leica BLK2FLY, which CONEXPO-CON/AGG and the International Fluid Power Exposition (IFPE) have selected as one of the top 10 finalists for the Next Level Awards Program for its innovative features designed to advance the construction industry. The Next Level Awards Program celebrates companies that push boundaries and develop groundbreaking technologies, products and services.
Presentations at the show
During the following educational sessions, Hexagon experts share their insights:
Nature Positive and Net-Zero Construction, a Choice or Science Fiction?
Thursday 16th March, 9.30-10.15 AM PST, West Hall 216-218
Matthew Desmond, Vice President, Hexagon Heavy Construction
Tommi Kauppinen, MSc, Vice President, Chief Innovation Officer, Machine Control, Leica Geosystems
Reka Vasszi, Communications Manager, Hexagon Geosystems
Grade Control Interoperability: Transforming Your Mixed Fleet
Friday 17th March, 10.45-11.45 AM PST, West Hall 213-215
Christian Luttenberger, Vice President, Heavy Construction, Hexagon Geosystems
The Time is Now: Why Public Infrastructure Projects will Rapidly Shift From 2D to 3D
Friday 17th March, 1 PM PST, West Hall 211-212
Troy Dahlin, Segment Manager, Heavy Construction, Leica Geosystems
To find out more about our presence, program highlights and announcements at ConExpo, visit our
events page: https://hexagon.com/resources/events/conexpo