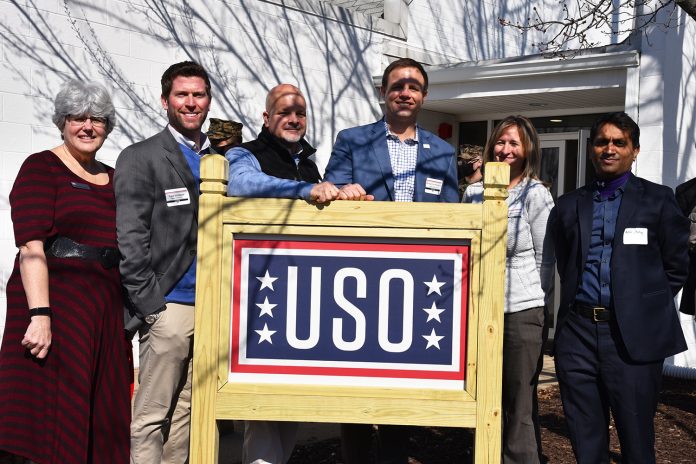 WASHINGTON | On Tuesday, February 15th, Harkins celebrated the grand opening of USO Metropolitan Washington-Baltimore's Quantico -Main at Marine Corps Base Quantico Station.
The new location is made up of 5,100 square feet within walking distance of the Barracks and Garrison Headquarters. The project involved the restoration of an existing office building into a premier gaming center. The building now features offices spaces, a conference room, multiple lounge areas, a TV room, arcade, cafe, support space, and ADA compliant restrooms. The exterior was pressure washed and touched up with a fresh coat of paint. With the help of Harkins employee-owners, Colimore Architects, and trade partners, the group collectively cut down construction costs to allow the USO to continue doing what they do best, providing support for our service members and their families across the country.
Harkins' history with the USO dates back over 30 years. It began when late President J.P. Blase Cooke met his wife at the 1968 USO ball. Since he started at Harkins, the company built a strong relationship with the organization through various philanthropic contributions and aiding in the construction of various USO lounges and centers across the East Coast. Along with USO Quantico MCB, Harkins recently completed a USO lounge at the Ronald Reagan Washington National Airport and an All-Star Depot in Ft. Belvoir, VA.
"For over 80 years, the USO's mission has been to keep our service members connected to family, home, and country," said USO Metro Executive Director Lisa Marie Riggins. "Harkins has been right by our side, building premier USO lounges that provide the comforts of home for our military."
The company looks forward to its continued partnership, giving back to our men and women in uniform.