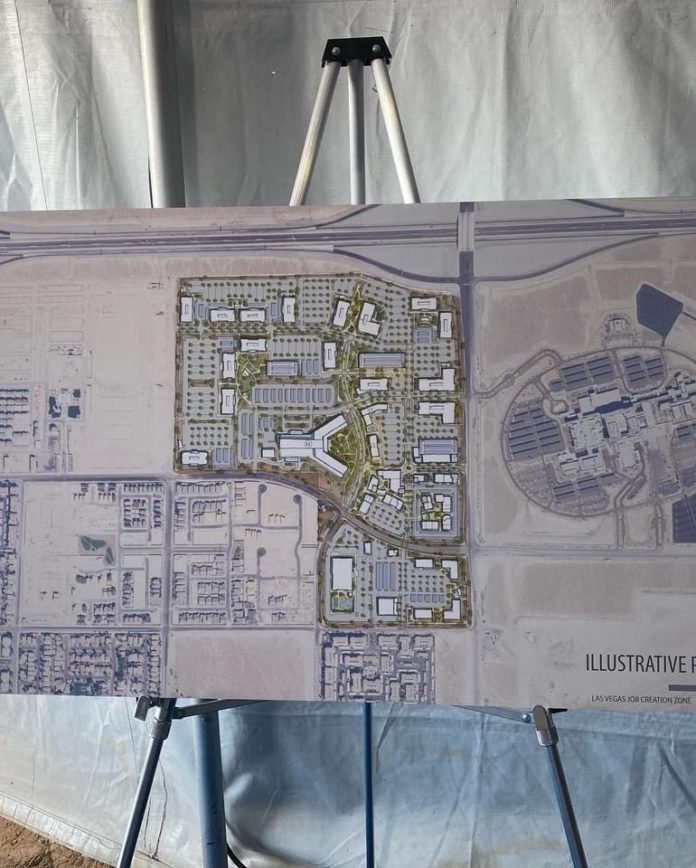 Today, the development team from Pacific Group and community leaders from the City of North Las Vegas officially broke ground on the new Helios Health and Wellness Campus, kicking off a new era of economic development and job creation that will result in a transformative campus and economic hub to serve the growing population of
North Las Vegas.
"Today's historic groundbreaking of the Helios Health and Wellness Campus ushers in a new
era of medical care in North Las Vegas, Southern Nevada, and the entire Southwest region," North Las Vegas Mayor John Lee said. "Together with Pacific Group, who have invested a great deal of time and money into this project, the City of North Las Vegas has taken a prime piece of property across from the North Las Vegas VA Medical Center and transformed it into a true job creation zone that will become the premier destination in our region for medical research and care and fill a critical need in our community for generations. This piece of property is now valuable real estate and should add value to the Pacific Group's portfolio."
The project, designated as a Job Creation Zone, has now been named Helios, reflecting the
focus of the project. Part world-class medical campus and part community gathering place to dine, shop and stay, Helios will offer the North Las Vegas community advanced and accessible healthcare hubs, and essential gathering places for locals to meet and mingle.
Slated for completion in phases over the next 7 to 10 years, this project is anticipated to include more than 2 million square feet of laboratory, research, and medical office space. More than 500,000 square feet of retail and restaurant space is also available, as well as 250 rooms for lodging. This project is anticipated to create over 10,000 jobs.
"This is a major milestone for North Las Vegas and the Southern Nevada Community; we're
excited to start bringing our vision for this project to life," said Tony Sansone, Chief Financial officer of Pacific Group. "We are incredibly excited to continue working hand in hand with our partners at the City of North Las Vegas to deliver a best-in-class medical campus to serve the diverse needs of this community."
North Las Vegas' population has seen unprecedented growth in recent years, with its population increasing 132.3% since 2000, it is now Nevada's third largest city and one of the fastest growing metros in the country. It is also Nevada's largest minority-majority city. Southern Nevada's population is expected to rise to 3.4 million residents by 2060. With such rapid expansion, the need for medical services is clear. Once completed, the Helios Medical Campus will mean many residents will no longer have to travel outside city limits for a doctor's appointment.
With Q2 2022 Las Vegas metro medical office vacancy at a decade low and no new medical
developments completed in the last 12 months, the 135 acre world-class Helios Health and
Wellness Campus is poised to satisfy the surging demand of the medical community with the most unique and flexible opportunity to develop, own or lease their next center of excellence. With only one full-service hospital in North Las Vegas, Helios represents a giant leap forward in access to healthcare for residents and the greater Las Vegas Valley as a whole.
The founders of Helios also recognize that in addition to fulfilling a tremendous need for health and wellness in the area, thousands of nearby residents are sorely underserved in traditional retail needs as well, such as grocers, retailers, restaurants, fitness options, and traditional neighborhood services. Helios has dedicated over twenty acres to the development and fulfillment of those needs exclusively. Helios founders have partnered with commercial real estate brokerage firm Colliers International to begin discussions with prospective developers in search of the best-suited partners. More information about leasing and partnership opportunities can be found at Helios.realestate.