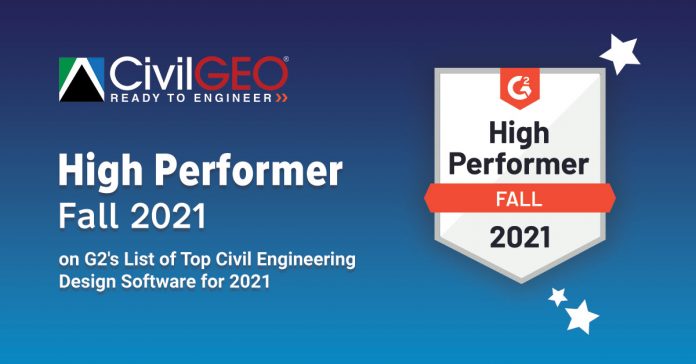 Madison, WI – CivilGEO, a leading provider of civil engineering software, is proud to announce that it has been identified as one of the top Civil Engineering Design Software products based on its high customer satisfaction ratings, according to the G2 Crowd Fall 2021 Grid® Report. The recognition acknowledges CivilGEO's growing industry presence as well as its customer satisfaction, robust functionality, and ease of use according to customers.
Chris Maeder, Engineering Director at CivilGEO, said, – "We are very pleased to see CivilGEO recognized as a High Performer in the 2021 Fall Grid® Report. Since the list is based upon user reviews, it is great to know that our customers value our product and consider our service as superior."
According to G2, CivilGEO has received top ratings from users in all three areas – Ease of Use, Quality of Support, and Ease of Setup.
G2.com is a peer-to-peer review site that is focused on the analysis of user reviews for business software.