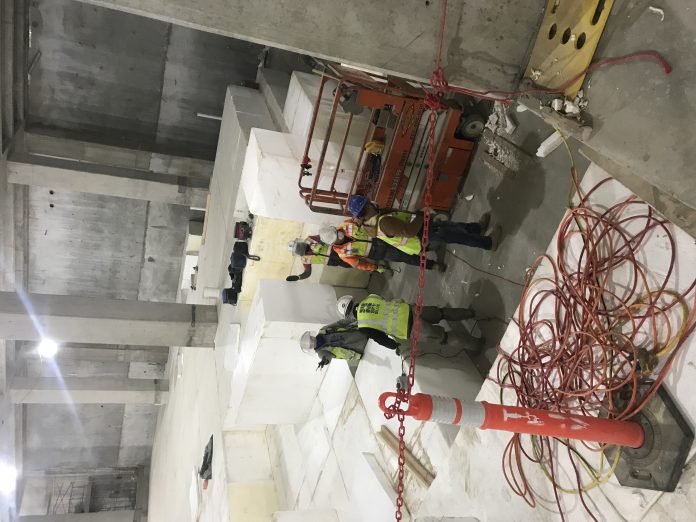 Molded polystyrene Geofoam pre-games construction challenges as airports expand
By Sean O'Keefe
Ask any construction professional about their work and most will say they enjoy that every day is a little different. Even after more than 37 years of hands-on experience, Matt Outsen still feels that way. Outsen specializes in complex concrete structural frames for buildings and infrastructure. For the last 12 years, he has been a Superintendent with Ralph L. Wadsworth Construction Company (RLW) of Draper, UT where complex, high-stakes projects are the norm.
"Working for one of Utah's largest builders of heavy highway and mass transit systems puts me in constant contact with challenging construction situations," shares Outsen. Founded in 1975, RLW specializes in innovative approaches to large, complex projects for both public and private sector clients. As a self-performing general contractor, RLW often takes the reins on piling, shoring, drilling, paving, structural steel, and structural concrete on infrastructure, buildings, roads, and bridges to ensure quality and value in many of any project's most critical elements.
"Our greatest strengths are our people and our processes," continues Outsen. "We are dedicated to safely building the best work possible through a commitment to innovation and continuous improvement."
In the realm of challenging assignments, Outsen has seen his fair share and takes pride in RLW's reputation for delivering excellence on projects with difficult logistics and tight timelines. One such example is the firm's recent work at the Salt Lake City International Airport (SLC). The massive redevelopment program intends to right-size the airport for its next generation of life as a flexible, user-friendly, operationally efficient travel hub. The work includes a new terminal and concourses that will have state-of-the-art functionality for users on the inside and significantly more room for aircraft to be maneuvered on the outside.
RLW's work at SLC has included constructing numerous tunnels, footings, concrete slabs, and decks for the Terminal, South Concourse West, Gateway Buildings, and associated components. A multi-contract, multi-phase assignment, Outsen has been building structural concrete solutions at the airport for more than five years already and expects to be working there for another two at least. In the area of thinking ahead, for Outsen one of the more unusual concrete elements he has built at the airport so far was a train station in waiting.
"The airport's next step will be to build another concourse, at which time they will add an Automated People Mover system on rails underground," says Outsen. "As part of our concrete scope, we built an underground vault that will one day become the loading platform for the People Mover."
Building a train platform 28 feet below grade within the structural foundation of the new terminal building presented a significant void-fill challenge that RLW had to overcome economically. Carrying the anticipated live loads of passengers across the sizeable train platform was accomplished through a combination of reinforced concrete and molded polystyrene Geofoam from Atlas Molded Products.
"The structural platform consists of six-inch concrete walls every six feet with Geofoam blocks filling in the voids between walls," says Outsen of the future platform's slab assembly. Molded polystyrene is a cellular plastic material Atlas molds into blocks as large as 40 x 72 x 288". A versatile building material that can be stacked, shaped, and even sculpted, Atlas Geofoam economically responds to the architectural specification for a lightweight structural material that can be easily maneuvered in tight spaces.
"We dropped the Geofoam down to the site using the opening for the future escalator walkouts with a crane," says Outsen of the challenging access. "Once it was down there, it was very easy to customize with a hot-wire cutter and put in place by hand."
Outsen has previous experience working with Atlas Geofoam on a variety of architectural and infrastructure challenges and appreciates the company's willingness to facilitate material orders and deliveries around construction sequencing and logistics.
"Atlas will cut blocks to specific sizes based on the drawings. They will organize, stack, and label material orders, and then facilitate a just-in-time delivery whenever needed," says Outsen of the company's capacity to support projects with practical logistical assistance.
At SLC, once the Geofoam block and rebar grid were in place, Outsen and the RLW team poured the concrete walls directly within the Geofoam formwork, which remains structurally integral to the finished platform.
Justin Heekin also enjoys a challenge. He is a project manager with GH Phipps Construction Companies in Denver, CO, focused on concrete for much of his 25-year career. A Front Range Colorado and Wyoming Contractor, GH Phipps has deep roots in public projects spanning from education to transportation and many in between including recent work at Denver International Airport (DIA).
"GH Phipps is committed to building relationships and giving back to the community in everything we do," says Heekin. In addition to self-performing concrete on all their projects, GH Phipps also frequently subcontracts concrete services to other local, non-competitive contractors. "Our work at DIA reflects our expertise and versatility in concrete. We are providing concrete services on four different concourses as a subcontractor to two different teams of general contractors."
Like their contemporaries in Utah, DIA is also thinking ahead and using molded polystyrene Geofoam from Atlas to help future-proof facilities. As part of the closing stages of work on the existing Concourse A West, Heekin and the GH Phipps team built the entrance to a tunnel extension for DIA's existing Automated Guided Transit System, which will one day connect to future Concourses D and E.
"The use of Geofoam was as a long-term but still temporary fill material within the future opening of the new tunnel," says Heekin of the need for a lightweight yet structurally stable material that could be cost-effectively installed now and removed at a much later date. At approximately 1/100th of the weight of soil, Geofoam's dimensional stability makes material behavior resolutely predictable. Atlas manufacturers Geofoam blocks in compressive resistances ranging from 2.2 – 18.6 psi at one percent deformation.
"We installed 940 Geofoam blocks that were eight feet long basically by hand. There were very few waste cuts," continues Heekin. While the logistics of accessibility were similar to those faced at SLC, the big difference on the DIA project is the Geofoam blocks are intended to be removed in the eventual next phase of tunnel construction.
"Right now, the Geofoam is sitting on a ten-inch structural slab. When the tunnel extension continues, all the Geofoam blocks will be taken back out completely intact and could even be reused," says Heekin. Like his contemporary in Utah, Heekin has experience working with Atlas Geofoam to address a wide range of architectural challenges on projects of many sorts and understands the possibilities are virtually endless.
"We have used Geofoam to create exterior terraces, outdoor seating, stair configurations, and lots of other applications requiring a lightweight fill," finishes Heekin. "In commercial construction, new and challenging situations arise almost every day. Atlas Geofoam is a dynamic building material that cost-effectively solves a lot of architecture and engineering challenges."