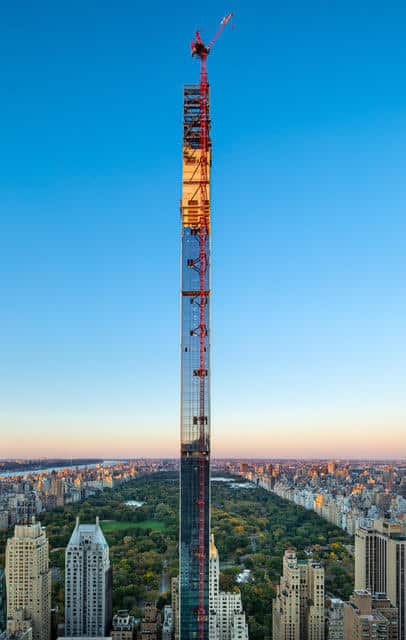 Directly centered overlooking Manhattan's Central Park, the 111 West 57th Street supertall tower is garnering acclaim for its remarkable height, its unexpected slenderness — and its intricate terra-cotta, glass, and bronze façade engineered by BuroHappold.
Recently topped out as the second-tallest residential building in the Western Hemisphere, the 91-story, 1,428-foot-tall tower has a width-to-height ratio of only 1:24. One of the project's key challenges lay in developing a facade system capable of supporting the weight of nearly 43,000 individual terra-cotta pieces on the building's east and west elevations.
Known as go-to experts for complex, high-performance façade projects worldwide, BuroHappold worked closely with SHoP Architects and the client group of JDS Development, Property Markets Group, and Spruce Capital Partners to create an elegant, unique solution. The resulting design fastens a series of unitized bronze, terra-cotta, and glass panels atop concrete shear walls. Determined through a highly advanced computational analysis of the materials and their geometry to ensure feasibility and serviceability, this approach was critical in enabling the building's expressive look and stepped form, which recalls classic New York skyscraper designs and serves as a major point of aesthetic differentiation.
BuroHappold's leaders including associate principal John Ivanoff, are available as helpful sources on the innovative façade solutions at 111 West 57th Street and other groundbreaking high-rise structures.
"The forward-thinking approach to engineering and architectural design is immediately apparent from 111 West 57th Street's height, slenderness, and elegant form," says BuroHappold's Ivanoff. "The project team's creative exploration of technical and material boundaries has enabled this tower to take its place as one of the tallest and most immediately recognizable buildings not just on the New York skyline, but anywhere in the world."
Residences at 111 West 57th Street are currently for sale and closings are anticipated to commence in Spring 2020. Learn more at www.111w57.com.